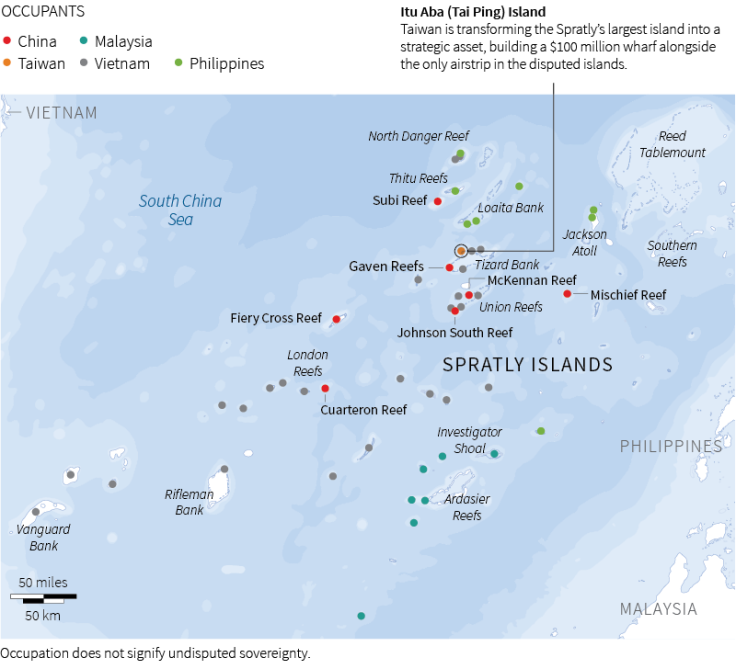 China is making rapid progress in building an airstrip suitable for military purposes in the contested territories in the South China Sea, according to an analysis by IHS Jane's based on satellite imagery.
The images from Airbus Defence and Space showed work on the runway on reclaimed parts of the Fiery Cross Reef in the Spratly archipelago.
The reclamation work on Subu Reef in the Spratlys was creating landmasses which, if joined together, could create space for a 3,000-metre airstrip.
Other images released by the satellite-imaging company DigitalGlobe show Woody and Duncan Islands in the Paracels, 400 km east of Vietnam, have also been expanded with upgrades to an existing runway and airport, raising US concerns that China was rapidly progressing with its pace of military modernisation in the South and East China Seas.
US defence analysts believe China could eventually deploy radar and missile systems on these outposts to enforce an exclusion zone should it move to declare one.
Senator John McCain, chairman of the US Senate Armed Services Committee, termed the Chinese moves "aggressive" and called on the Obama administration to move more military resources into the economically important Asian region.
China has, meanwhile, insisted it has territorial rights over the region, relying on "historical entitlements" and has accused Washington of taking sides to salvage its waning influence in the Asia-Pacific region.
China warns US
In a clear reference to US activities in the region, China's ambassador to the United States, Cui Tiankai on Thursday (16 April) warned there "should be no illusion that anyone could impose on China a unilateral status quo" or "repeatedly violate China's sovereignty without consequences".
The UN Convention on Law of the Sea, to which the US is not a signatory, did not give anyone the right to "conduct intensive and close-range reconnaissance in other countries' exclusive economic zone", he said.
IHS Jane's said images of the Fiery Cross Reef showed a paved section of runway 505 metres by 53 metres on the northeastern side of the reef.
Washington-based think tank Center for Strategic and International Studies said satellite photographs from 11 April showed the runway about one-third complete, with a projected total length at 3,110 metres, large enough for heavy military transport planes and fighters.
However, its artificial islands were too small and vulnerable to support major forward deployment of military forces, it said.
Beijing asserts sovereignty over almost the whole of the mineral-rich South China Sea, but is opposed by the Philippines, Vietnam, Malaysia, Brunei and Taiwan which have overlapping claims.
The region is a vital shipping route through which $5tn of trade passes every year.
Obama had said the views of smaller claimant nations had to be considered, while pulling up China for not abiding by international norms and rules, but using its "sheer size and muscle to force countries into subordinate positions".
"We think this can be solved diplomatically, but just because the Philippines or Vietnam are not as large as China doesn't mean that they can just be elbowed aside."