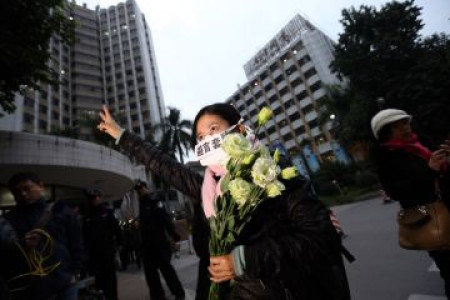 Chinese authorities have detained activists in the southern city of Guangzhou to block a planned protest.
The protest was to commemorate the first anniversary of a newsroom strike at the Southern Weekly over the Communist Party of China's (CPC) tight censorship controls.
Some activists told Reuters they had dropped out of the protests after police warnings.
"In recent days, those who were planning to mark the anniversary were either asked to meet [police], warned, put under house detention, forced to go on holiday or were detained," explained Wu Wei, the Guangzhou-based deputy head of the Independent Chinese Pen Center, which campaigns for freedom of expression and publication in China.
"For the government, these kinds of commemorative events and street activities are not tolerated within their social stability framework. They have pre-emptively clamped down on us," Mr Wei added.
Some activists have been taken into custody and two charged with assembling a crowd to "disrupt public order" during protests in support of the strike. The pair are expected to stand trial this month in Guangzhou.
Journalists at the Southern Weekly went on strike for several days last year after a New Year message calling for China to guarantee constitutional rights was censored.
The newspaper's journalists called for the Guangdong propaganda chief's resignation, accusing him of being "dictatorial" in an era of "growing openness".
The strike ended after local propaganda officials promised to loosen the tight grip of censorship.
The Southern Weekly New Year message for 2014 focused on the newspaper's value in fighting for the truth, without any mention of last year's protest.
"As a newspaper that strives for the truth, we are sometimes powerful as well as powerless. But we have no choice...but to question, and express the truth industrially, professionally and responsibly," the newspaper's New Year message said.
Chinese media are supervised by the CPC's propaganda departments that make sure content falls in line with party thinking, set under President Xi Jinping.
French advocacy group Reporters Without Borders ranked China at 173 out of 179 countries in their Press Freedom Index 2013. Top of that list, with the highest ranking press freedom was Finland, with UK falling in at 29, four places higher than the US.