China has barred two Hong Kong pro-democracy politicians from taking office after they failed to pledge their allegiance to Beijing, during their swearing-in ceremony last month. Sixtus Leung and Yau Wai-ching will not be allowed to retake their oaths if the first attempt is considered invalid, the Standing Committee of China's National People's Congress (NPC) ruled.
Zhang Rongshun, vice chairman of the NPC's legislative affairs commission was quoted by state media as saying that the decision was necessary to protect the dignity of Hong Kong's legal system.
Last month, the two newly-elected lawmakers refused to pledge their allegiance to China and said, "Hong Kong is not China". They further modified their oath of office to pledge to defend "Hong Kong [as a] nation". On 3 November, Hong Kong started legal proceedings over whether the legislature should allow the two politicians to take office.
Beijing's interpretation of Article 104 in Hong Kong's Basic Law can replace any local court ruling, according to reports. Hong Kong's mini constitution states that lawmakers must pledge their allegiance to "the Hong Kong Special Administrative Region of the People's Republic of China".
A senior member of the pro-democracy camp and chairwoman of Hong Kong's Democratic Party, Emily Lau told the Guardian that China decided to interfere because it fears the calls for independence would spread to regions such a Tibet and Xinjiang. She said that Beijing hoped to nip the independence movement in its bud.
"But you can't nip it because there are many students in secondary schools and in universities who support the idea. That is the way of solving the problem, not trying to suppress it. Because the harder you suppress, the more they will rise up," she added.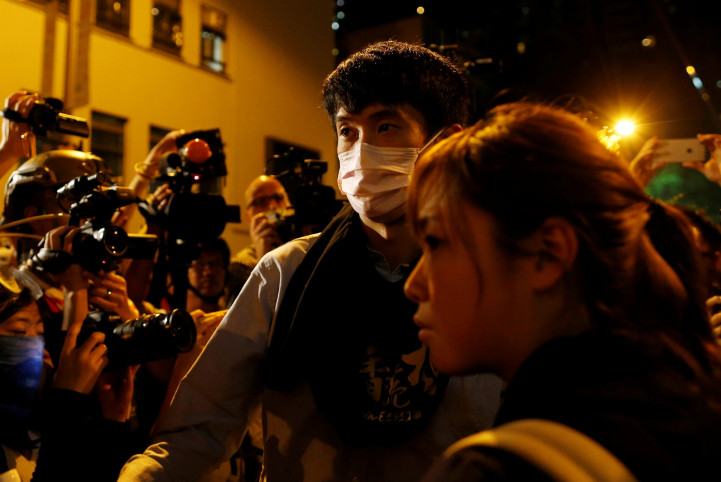 Li Fei, chairman of the Basic Law committee in China's parliament said at a news conference: "Since the Legislative Council elections, some people have been advocating independence and saying they want to do it in Legco. The interpretation today will help to defend national unity and sovereignty."
He added, saying that calls for "self determination" amounted to advocating independence, with both being at odds with the Basic Law, the Guardian reports.
On Sunday, about 13,000 people protested against Beijing's intervention, resulting in clashes with the police, which led to four arrests.