China will begin to vet all technology products and services used by government departments following allegations of cyber espionage made by the US earlier this week.
The state-run news agency Xinhua announced on Thursday that the Chinese government would start checking all services and products which are used to protect sensitive data related to national security and public internet data, citing the State Council Information Office.
The report said a small number of governments and businesses "take advantage of technological monopolies to collect sensitive data on a large scale" from the Chinese government, business and institutions, adding that there have already been large-scale security breaches.
The report did not identify any individual government or business which it believed to have taken part in these attacks.
The news comes in the same week as five Chinese military personnel were charged with cyber-espionage by the FBI, who published the suspects' photos on Most Wanted posters in what was seen as an escalation of the growing tensions over cyber-security between the two countries.
Windows 8 ban
Also this week China banned the use of Windows 8 for official purposes to "ensure computer security after the shutdown of Windows XP".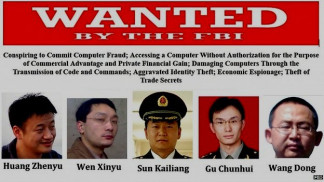 It appears as if the two announcements are linked, though this has not been made clear by government officials in China.
China has reacted angrily to the indictments against five of its military personnel calling with the Ministry of Defence publishing a strongly worded rebuke to the charges:
"The US' deceitful nature and its practice of double standards when it comes to cyber security have long been exposed," the statement read.
"Extremely vile"
An editorial in the Huanqiu Shibao (Global Times) went even further calling for a suspension of relations with the US:
"This provocation by the US is extremely vile. China must not tolerate it or just voice several protests from the Foreign Ministry or the Defence Ministry. The Foreign Ministry should suspend the China-US cyber-security working group, but we should also take further action."
In the state-run Xinhua publication, Zhu Dongyang says the US calling China out for cyber espionage is like the pot calling the kettle black:
"Washington's pressing of the groundless cyber-spying charges is also a typical case of a thief crying thief. The sole superpower in the world is easily the biggest eavesdropper on the planet, with Washington sitting at the core of a global network of organised website-hacking and telephone tapping. In the face of Washington's hypocritical indictment of late, China needs to respond. Suspending the operations of a bilateral group on cyber-affairs is a reasonable start, but more countermeasures should be prepared in case Washington obstinately sticks to the wrong track."