A major city in Southwest China, Chongqing, has taken the smart phone obsession up a notch by creating an entire smart phone road lane to separate those using their phones from others.
"There are lots of elderly people and children in our street, and walking with your cellphone may cause unnecessary collisions here," said Nong Cheng, spokeswoman for the district's property management company, Meixin Group.
According to China Daily, a warning sign on the pavement next to the no cell phone lane reads: "Cell phone users walk in this lane at your own risk."
The instructions have been painted over a 50-metre stretch, dividing the pavement into lanes – one that permits smart phone usage while the other that prohibits pedestrians from using smart phones.
"Those using their cellphones, of course, have not heeded the markings on the pavement. They don't notice them," said Cheng.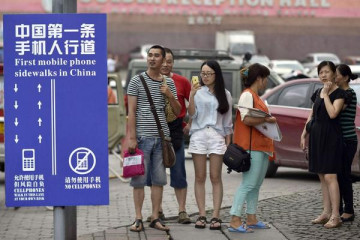 Cheng added that most people have been amused and were either seen taking pictures next to the marked pavement or the signage that reads, "First mobile phone sidewalks in China."
Critics took to Weibo, China's hybrid of Twitter and Facebook, to voice their bemusement.
"Am I supposed to jump to the other side of the path when I get an incoming phone call?" said one user, as reported by BBC News.
Another said: "Maybe they can even build one traffic lane especially for drunk drivers in the future."
Cheng says the company was inspired by a similar idea in Washington DC when the National Geographic TV programme marked similar instructions on pavements in July as part of a human behaviour experiment.
Saw this on the sidewalk today and LOL! There was also a no cellphone lane. I wonder who did this. #100happydays pic.twitter.com/d2GXi9Gx6a

— Karen Burkes (@karenburkes) July 17, 2014