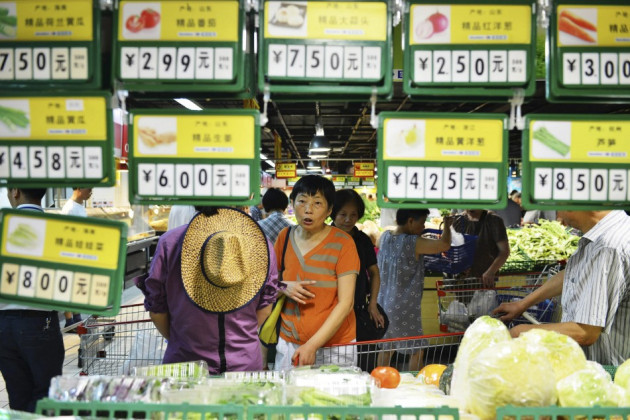 China's consumer price inflation accelerated in June, to reach a four-month high, which limits room for the central bank to ease policy rates to support the flagging economy.
The National Bureau of Statistics (NBS) said that consumer prices rose 2.7% year-on-year in June, up from 2.1% in May.
It is the highest rise since February this year. Analysts had expected an inflation rate of 2.5%.
Inflation is a rise in the price of goods and services.
The rebound in consumer prices is largely due to a low base last year. The inflation rate still remains well below the Chinese government's 3.5% target for 2013.
Food and rental costs increased by 4.9% and 3.1%, respectively in June, from 3.2% and 3.0% in the previous month.
On a month-on-month basis, consumer price inflation remained unchanged in June, compared with a 0.6% decline in May.
Meanwhile, the producer price index, measuring wholesale price inflation, met analyst expectations and declined by 2.7% in June, compared to a 2.9% drop in May.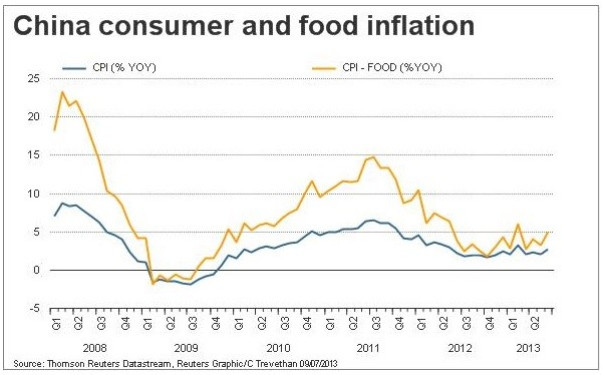 Deflation
The deflation in wholesale prices for the sixteenth consecutive month suggests that demand remains sluggish in the country and firms have little power to raise prices.
It also indicates the consumer price index is unlikely to pick up in the next two quarters, as there is a pass-through effect from producer prices to consumer prices.
"The commercial banks will be forced to scale back their asset size, leading to credit rationing and even a possible credit crunch in certain sectors of the economy," said Li-Gang Liu, economist at ANZ Research.
"We believe it will translate into high funding costs to the overall economy, thus further dampening already weakening activity."
The increase in consumer prices amid weak economic growth underlines the dilemma faced by Chinese authorities. While the economy requires more fiscal and monetary support to recover, a cut in benchmark interest rates would be difficult for the central bank, due to increased credit availability.
Several economists have said that they do not expect any monetary easing from the central bank. Chinese officials and the central bank also did not hint at any imminent change.
"We reiterate our view the monetary authority should anchor its monetary policy based on forward-looking inflation, growth and employment dynamics, and conduct a more accommodative monetary policy, such as lowering the interest rate and even the reserve requirement ratio," Li said.