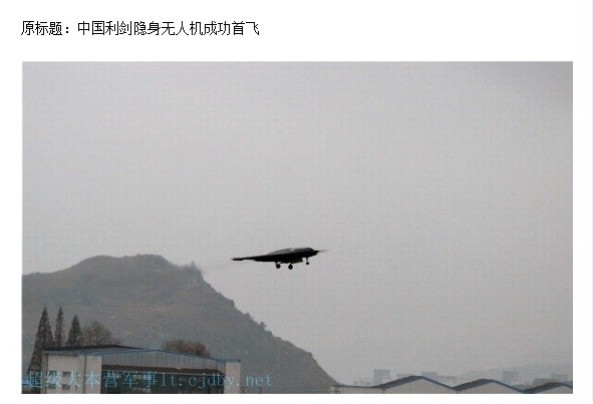 China has flown its first unmanned stealth drone signalling its growing military ambition.
Local media reported the tailless delta-wing drone named Lijian, or "Sharp Sword" had successfully completed a 20-minute trial flight.
The test run was completed at an undisclosed airbase in southwestern China and photos and videos of the aircraft were posted online by several media outlets.
Details about the drone's performance and capabilities were not provided. Some analysts suggested the Chinese drone was a reverse-engineered copy of Russia's Mikoyan Skat and was equipped with Russian-made turbofan engines.
The People's Daily newspaper said Lijian was the Chinese answer to the US X-47B drone, the French experimental Neuron project. The US Navy has been testing the X-47B for aircraft carrier operations.
The drone can be used for reconnaissance and an air-to-ground strike, but more importantly, it has a huge potential for aircraft carriers, according to reports in China Daily.
"I think the size and technological capability of the Sharp Sword make it a suitable choice for the navy if it is to select an unmanned combat platform for its aircraft carrier," an expert on unmanned aircraft told the paper.
China launched its first and only aircraft carrier, a 300m (990ft) Soviet Union made vessel named Liaoning, in September last year.
Lijian was designed by Shenyang Aircraft Design and Research Institute under the Aviation Industry Corporation of China and was manufactured by the Jiangxi Hongdu Aviation Industry Group.