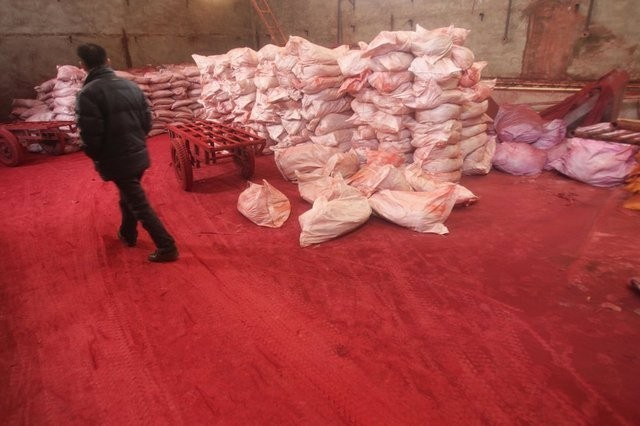 China is due to start imposing anti-dumping duties on a chemical imports from Europe from Friday in a further move to retaliate against punitive duties on its solar panel exports to the European Union.
China's commerce ministry said the country will impose duties ranging from 19.6% to 36.9% on European exports of toluidine, a chemical used to produce dye, medicine and pesticides, among other uses. Starting from 28 June, the punitive duties will run for five years.
The ministry said its decision is based on an investigation into the product started in June 2012, which found that the imports have been hurting domestic businesses. Lanxess Deutschland, a German chemical company, will be hit by a tax of 19.6%, while other firms will have to pay 36.9%.
The trade spat between China and the EU worsened after the latter imposed anti-dumping duties on China's multi-billion-dollar solar exports, despite strong opposition from the world's second-largest economy. The duties were lowered to a fourth from what were proposed initially due to intense lobbying by China of European leaders and industry executives.
In response, China launched an anti-dumping and anti-subsidy probe into various imports from Europe, including chemicals and wine. The country is also expected to extend the anti-dumping probe into European luxury car imports, which have been providing the crisis-hit region with a large amount of money from affluent Chinese.
While both parties intend to resolve the issue through talks, China's People's Daily, the ruling Communist Party's official newspaper, had earlier reported that China is likely to take further measures in its trade dispute with the EU.
"We have set the table for talks, (yet) there are still plenty of cards we can play," the newspaper said.
The ministry also said on its website that it has started an anti-dumping investigation into other chemicals imports such as perchlorethylene, which is used extensively by dry cleaning plants.
Prior to the solar panel dispute, Beijing had imposed punitive duties of up to 37.7% on European chemical imports such as toluene diisocyanate, the main raw material used to produce polyurethane products such as flexible foams, elastomer, coating and adhesives.