China flexes military muscle during massive parade to mark 90th anniversary of PLA
President Xi Jinping asked the People's Liberation Army to be loyal to the Communist Party.
China has marked the 90th anniversary of the inception of the People's Liberation Army (PLA) with a massive military parade showcasing its muscle. More than 600 pieces of military hardware were shown off at the Zhurihe military training base in China's northern Inner Mongolia region in front of President Xi Jinping.
Amid China's ambitious military modernisation programme, Xi called on the army to transform itself into an elite force. There were flybys of new jets and marches by troops at Asia's biggest training base.
China's 2.3 million-strong army, the world's largest, had yet another simple message from their commander-in-chief. They should be "unswervingly loyal" to the ruling Communist Party to "extend the battleground to wherever the party points towards", said Xi.
"I firmly believe that our gallant military has both confidence and ability to defeat all invading enemies," said Xi, clad in military fatigues and a field cap, in what has been seen as a reference to the ongoing border standoff with India. Thousands of troops roared back with slogans like "Serve the people!", "Follow the Party!", and "Fight to win!"
Xi went on to say in his brief remarks, which did not see any policy announcement, that: "Today, we are closer to the goal of the great rejuvenation of the Chinese nation than any other time in history, and we need to build a strong people's military more than any other time in history." His remarks were broadcast live on state television and radio.
This is also the first time Xi is overseeing such a grand parade in the field. Among the advanced weaponry on display were the latest J-20 stealth fighter jet and DF-31AG long-range missiles. The South China Morning Post reported that nearly 40% of the equipment was never displayed to the public before this parade.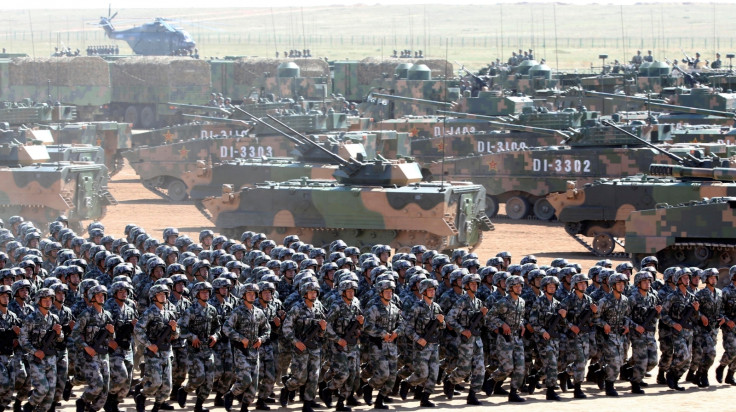 © Copyright IBTimes 2023. All rights reserved.