China is mobilising thousands of tonnes of military equipment near its border with India as the standoff between the two neighbouring countries continues, according to Beijing's state media.
All the equipment and military vehicles are believed to have been transported into Tibet via both road and rail.
Tensions in the India-China border have escalated in recent weeks with both New Delhi and Beijing refusing to back down from their positions.
What started as a cross-border dispute which centred on China's construction of a road project in an area, also contested by Bhutan, has now snowballed into something bigger.
In the latest development, it is believed that China has transported heavy military gear into the mountainous Tibet region as part of its recent live-fire military exercises in the plateau.
According to China's official military mouthpiece, the PLA Daily, the equipment was taken to the south of the Kunlun Mountains in northern Tibet by Beijing's Western Theatre Command, the unit which oversees border issues with India.
The PLA Daily added that the large cache of equipment was moved in late June – when border tensions with India began to erupt.
"The PLA [People's Liberation Army] wanted to demonstrate it could easily overpower its Indian counterparts," Beijing-based military analyst Zhou Chenming told the South China Morning Post.
Amid the volatile atmosphere, the war of words between the two sides has also escalated, with China's foreign ministry spokesman Lu Kang asking Indian forces stationed in the area to leave immediately to avoid any escalation.
"We have stated many times that we hope the Indian side will get a clear understanding of the situation (and) immediately take measures to withdraw the troops that illegally crossed the border back to the Indian side of the border," Lu told reporters during a routine press briefing.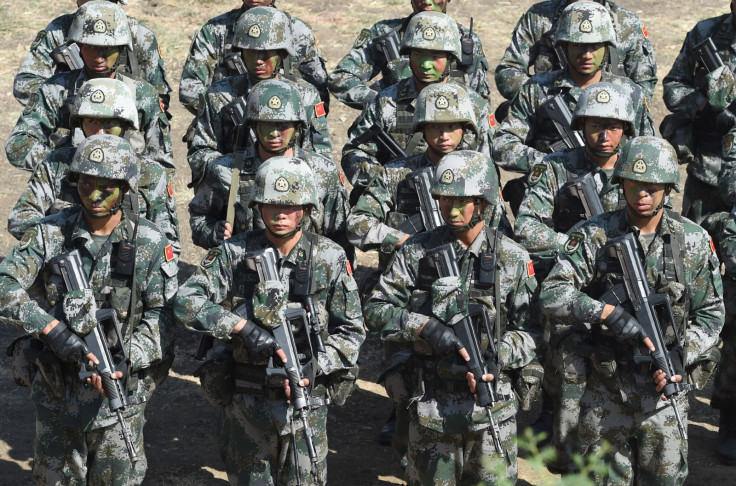 Meanwhile, New Delhi has alleged that China has hidden nuclear weapons in Pakistan, a geopolitical ally of Beijing, in order to attack India.
Speaking in the Lok Sabha (lower house) of the Indian Parliament on Wednesday (19 July), Mulayam Singh Yadav, opposition leader and former defence minister, urged the New Delhi government to take a tougher stance against China.
"India is today facing a big danger from China. I have been cautioning the central government for years. China has joined hands with Pakistan. It has made full preparations to attack India," said Yadav, a known China critic, adding that Beijing has buried nuclear weapons in Pakistan.