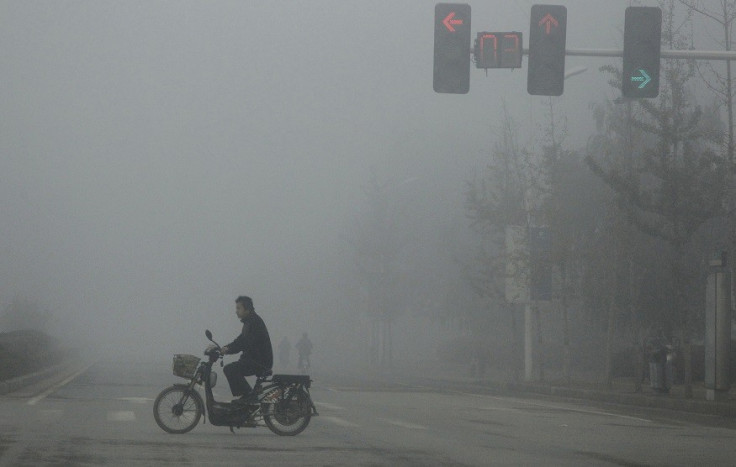 An eight-year-old girl in China has reportedly become the country's youngest person known to have been diagnosed with lung cancer, with the country's air pollution being blamed for her condition.
The girl, who lives in the densely populated and industrialised eastern province of Jiangsu, is reported to have contracted the disease after being exposed to harmful particles from vehicle emissions and dust over a long period of time, according to state media.
Kan Haidong, a professor from the School of Public Health at Shanghai's Fudan University, said it was "very, very rare" for such a young child to develop lung cancer and has said it may have been brought about due to China's smog and pollution problems.
Dr Feng Dongjie, of the Jaingsu Cancer Hospital, also said one of the key culprits would have ben PM2.5 - the most dangerous component of smog - which has been engulfed parts of China.
According to the World Health Organisation (WHO), the average PM2.5 in the air should not be more than 25 micrograms per cubic metre. Parts of China have recently recorded peak levels of more than 1000 PM2.5 in the air.
A shortage of natural gas has hindered China's plan to move away from burning coal to heat homes and offices.
The pollution problem is worst in northern China, where decades of reliance on coal has lowered life expectancy by an estimated five and a half years compared to the south, according to researchers.
Residents of China have taken to Sina Weibo - the country's equivalent of Twitter - to express their horror at the news about the eight-year-old girl.
"Nowhere is safe in this country any more. There are no words, only tears," one user wrote.
China's rapid development caused widespread pollution problems, particularly in urban areas. Links have been made to the pollution and rise in cancer cases in the country. The number of deaths from lung cancer soared by 56% from 2001 to 2010 in Beijing, according to the health ministry.
Chen Wanqing, the vice director of China's National Cancer Prevention and Control Research Office, told China's official news agency Xinhua: "In 2020, there will be four million new cases of cancer in China every year."
The government has promised to attempt to tackle the problem and announced last month it is to set aside around £500 million to Beijing and the surrounding areas to help stem the damage resulting from steel mills and coal-burning power stations.
In October, the north-eastern city of Harbin was forced to virtually shut down as smog levels reached 40 times higher than international safety standards at 1,000 micrograms per cubic metre.