Days of continuous torrential rainfall have led to severe flooding in southern and eastern China. At least 186 people are reported to have been killed, with another 45 still missing. The extreme conditions have been blamed on an unusually powerful weather phenomenon known as a super El Nino.
Storms created havoc across a huge area of the country, with flooding and landslides reported in the provinces of Hubei, Anhui, Jiangsu, Hunan, Jiangxi, Guizhou and Guangxi Zhuang Autonomous Region. Thousands of homes have collapsed and around 1.5 million people have been evacuated. At least 27 people have been killed in Hubei province, and another 18 lost their lives in Anhui province. The bodies of 23 people were found after a landslide buried a village in the mountainous Guizhou province.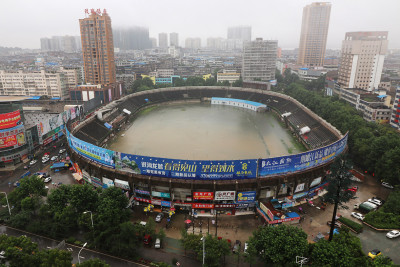 Rainstorms hit southern China every year during the summer monsoons, but this rainy season has been particularly wet. That's because this year's El Nino was so much stronger than normal that it was nicknamed Godzilla by Nasa. El Nino is the natural warming of parts of the Pacific Ocean that changes weather worldwide. This year's higher ocean temperatures are believed to have triggered droughts in parts of Africa and India. It is also thought to have played a role in a record Pacific hurricane season.
A similarly strong El Nino effect was linked to China's worst floods in recent history. Some 4,150 people died in 1998, most along the Yangtze. Flood control measures along China's longest river have since been reinforced, but experts say this time severe floods are likely to hit the Yangtze's tributaries.