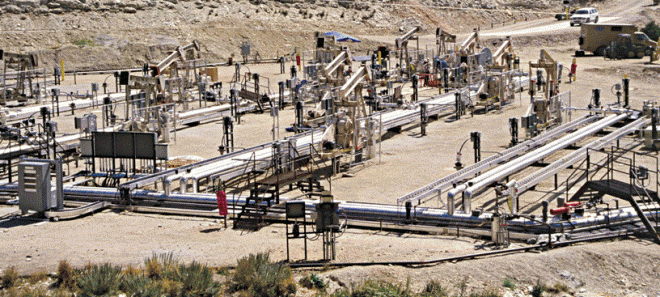 China is likely to cross its shale gas production target for 2015, as the world's largest energy consumer has been able to start a number of fracking projects with improved techniques.
The official Shanghai Securities News reported that state-backed China National Petroleum Corporation (CNPC) has completed its preliminary development plan for shale gas exploration in northwestern province of Sichuan.
CNPC, China's largest oil producer, currently has nine shale gas wells running at its Sichuan shale gas-fields with a combined production capacity of more than 80 million cubic metres.
Furthermore, the company plans to put more than 110 wells in operation by the end of the second quarter of 2015.
The resource-rich Sichuan Province is estimated to have about 27.5 trillion cubic metres of shale gas that could be tapped. Exploration efforts by companies in the region would make it possible for China to meet or even surpass production targets for 2015, the report said.
Rising Energy Needs
China is currently the world's fastest-growing major economy with annual gross domestic product growth rates averaging 10% for the last 30 years.
Energy demand in China has accelerated dramatically over the past few decades in line with the country's rapid industrialisation, making it one of the biggest manufacturing centres in the world.
China is expected to overtake the US as the world's largest oil consumer by 2027 and Russia as the world second-largest gas consumer by 2025, according to report by British oil giant BP.
Shale gas is natural gas found trapped within shale formations, and it has become an increasingly important source of energy across the globe. It is tapped using a most modern technique, known as fracking.
As a clean and efficient energy source, China is keen on making use of the new technology to ensure energy security and optimise energy structure, as it looks to reduce reliance on imported oil, coal and gas. Nevertheless, the complicated pipeline access procedure and geology make its extraction difficult and expensive.
China has been investing more in shale gas and fracking research, and the country's efforts are yielding favourable results.
Earlier, refiner Sinopec discovered a major shale gas block with a maximum daily output of 105,000 cubic metres in its southwest province of Guizhou.
China targets shale gas production of 6.5 billion cubic metres in 2015, which it previously thought to be difficult to achieve due to a slowdown in commercial exploration practices.
China is the most promising country for shale growth outside North America, accounting for 13% of world shale gas growth, according to a BP report. Together, China and North America will account for 81% of shale gas by 2035, the report added.