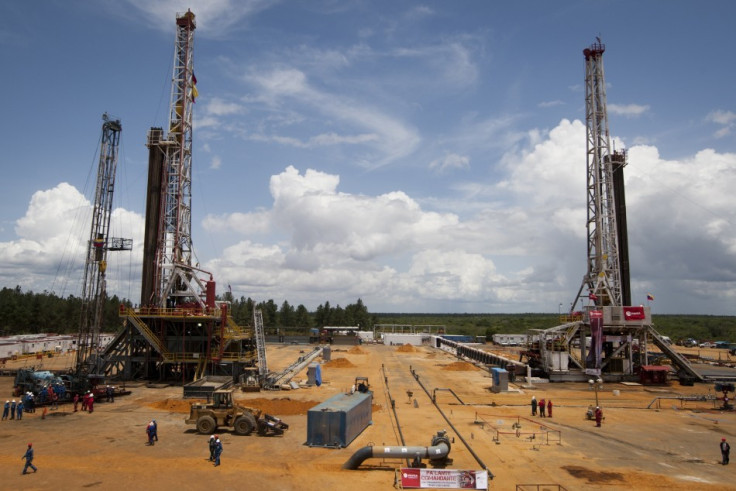 With shale-gas fracking gathering pace, the United States is slowly overtaking Russia as the world's largest oil and gas producer.
The oil and natural gas output in the US in July was equivalent of about 22 million barrels per day, compared with Russia's forecast of 21.8 million barrels a day of oil and natural gas in 2013, the Wall Street Journal reported.
The US advance was mainly owing to the adoption of technologies such as hydraulic fracturing, or "fracking", while Russia lagged behind in this area, though it has some of the world's largest oil-bearing shale formations.
The US output of natural gas in 2012 was higher than Russia's output, a first instance since 1982, the report said, citing data from the International Energy Agency.
According to the US Energy Information Administration, Russia had surpassed Saudi Arabia as the top crude oil producer in the world in four out of the six months of 2012, though the Gulf Arab kingdom remained the largest producer of crude oil in the world with more than 11 million barrels per day.
The advantage of Gulf countries in crude oil production is being challenged by the increasing output from Russia and the US. Russia now produces 10.8 million barrels per day, while the US output stands at 10.3 million, according to the Journal.
Countries like Russia and the US, with vast reserves of natural gas, are in a position to ramp up production in the coming years. According to the EIA, Russia holds the world's largest natural gas reserves, the second-largest coal reserves, and the ninth-largest crude oil reserves.
Besides these countries, China, Australia, Canada and Argentina, among other countries, have vast resources of unconventional energy.
According to the American Petroleum Institute (API), unconventional gas production will increase from 42 percent of total US gas production in 2007 to 64 percent in 2020. This rise is mainly fuelled by the hydraulic fracturing technology, which is used in producing gas from shale formations.
This technology will account for nearly 70% of natural gas development in the future, according to the API.
"The most significant trend in US natural gas production is the rapid rise in production from shale formations. In large measure this is attributable to significant advances in the use of horizontal drilling and well stimulation technologies and refinement in the cost-effectiveness of these technologies. Hydraulic fracturing is the most significant of these," it says.
The rise of shale gas output in the US has reduced the top global energy consumer's traditional reliance on Middle East producers. However, the Middle East producers, especially Saudi Arabia, will retain significant influence in the global energy market as they are in a position to export most of their output.