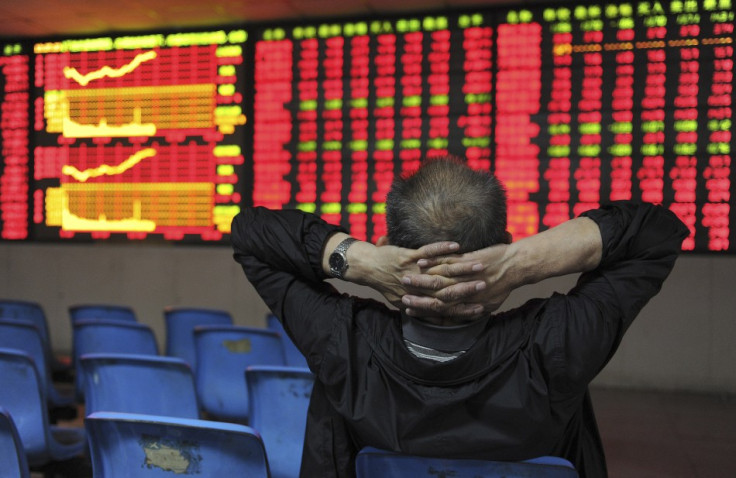 Mainland Chinese shares continued to plummet on 8 July as the country's equity troubles deepened, causing several companies to suspend trading.
At least 1,249 companies halted trading on Chinese stock exchanges as shares plunged by more than 8% at one point during early trading, according to Bloomberg data.
That represents around 43% of all listings on mainland Chinese exchanges.
The freeze has locked up a minimum of £1.4tn (€2tn, $2.2tn) of shares, or about a third China's market capitalisation.
The Shanghai Composite Index closed down 5.9% to 3,507.19, while Shenzhen Composite index was down 3.5% to 1,884.45.
Other Asian shares also suffered as the effects of China's equity crisis spilled over the rest of the region.
Hong Kong's benchmark slipped 5.8% to 23,516.56 - its biggest single-day fall since November 2008. Japan's Nikkei index was down 3.1% at 19,737.64.
Chinese shares have been falling for three weeks, shedding 28% of their value since 12 June. Nearly £2tn has been wiped off the country's stock market.
On 8 July, the government announced additional measures to arrest the free fall in equity prices.
The country's insurance regulator upped the limit for insurers to invest in blue chip stocks to 10% from 5%, the BBC reported, while the securities regulator pledged to provide adequate liquidity for brokerages to help restore calmness to the market.
Government efforts to prop market fails
Last week, state-owned brokerages promised CN¥120bn (£12.41bn, €17.54bn, $19.33bn) towards a stabilisation fund to prop up falling prices.
The Singapore Straits Times said the mainland share prices started its downward spiral when China's securities regulator warned that it would tighten rules on margin trading for individual investors. The China Securities Regulatory Commission banned trading with funds borrowed outside the margin trading system.
The de-leveraging process soon become uncontrollable, with investors who traded on margins forced to liquidate their stockholdings to make payment.
Despite the regulator then announcing a relaxation of margin trading rules and cutting stock transaction fees, as well as letting social security pension funds to enter the stock market, the downward spiral continued.
The regulator also cut back on the number of initial public offerings and then took a further drastic step by halting them completely, the Straits Times said.
China's central bank has said that it would provide funds through the state-backed China Securities Finance Co. to "protect the stability of the securities market.". The confidence restoring measures however have failed to stem the share price falls.
Bloomberg said some 917 companies had halted trading on Shenzhen's bourse, along with 332 in Shanghai, before 1am GMT.
Meanwhile, the China Association for Public Companies urged shareholders and company executives "to buy back, increase their shares and other measures to stabilise the companies' share price".
The country also appears to have closed its IPO market, as state-run Xinhua reported that 28 companies had decided to put their public offerings on hold.
Leveraged bets, blamed for inflating stock prices, are yet to be unwound. According to Bank of America Merill Lynch, CN¥2.1tn of stocks have been bought with borrowed money or margin finance, according to South China Morning Post.
Nearly 30% of shares listed on the mainland markets are trading at above 50 times projected earnings while 20% are trading at price earnings of 30 times, according to Citibank.
"They [regulators] are doing everything now, barring the central bank buying shares, and you could even make an argument that they are doing that by backdoor," said Michael Every, head of financial markets research at Rabobank.
"A stock market crash would be undoubtedly painful, shaving 0.5 to 1 percentage point off the real [GDP[ growth in the following 12 months," said Societe Generale China economist Wei Yao.
HSBC says that mainland households had invested around 13% of their assets in the equity markets as of May, compared with 10% in 2014.