China marked the 70th anniversary of its World War II victory with a massive military parade on 3 September as it showcased unprecedented amount of artillery and weaponry in a chest-thumping exercise. President Xi Jinping was overseeing the military extravaganza as 12,000 troops marched through Beijing alongside fighter jets cruising the capital's skies.
This has been China's biggest display of its military might at the event, quietly shunned by the Western leaders. However, the parade was attended by several high-profile dignitaries and 30 heads of state including UN Secretary-General Ban Ki-moon, Russian President Vladimir Putin, and South Korean President Park Geun-hye.
Xi, in his opening remarks, hailed the Chinese people "who unwaveringly fought hard and defeated aggression". In a surprise announcement, he also said China's People's Liberation Army (PLA) would be scaled down by 300,000 personnel but did not specify any timeframe. The PLA currently has about 2.3 million soldiers.
"The experience of war makes people value peace even more. China will never seek to expand and will never inflict the tragedies it suffered in the past upon others," Xi said.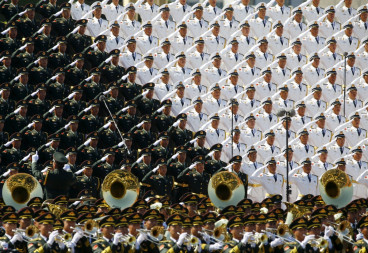 He continued: "China will remain committed to peaceful development. No matter how strong it becomes, China will never seek hegemony or expansion."
About 200 fighter jets flew in Beijing's skies, which turned crystal blue as factories across the capital shut down operations. More than 500 military hardware never display publicly were on display.
An English language commentary on state-run Xinhua news agency read: "For decades, when people in Western countries talk about WWII, they usually refer to the battles on the European continent and have little knowledge about China's role as the major oriental theatre of the war."