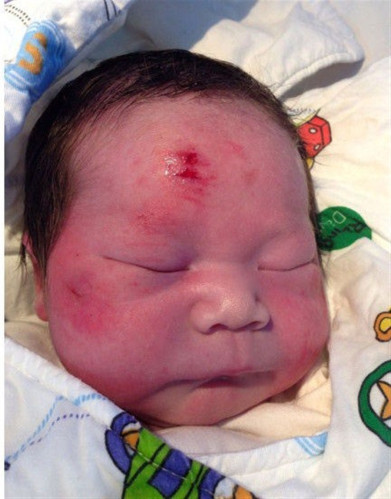 An infant has been dubbed a "miracle baby" after he was born at the scene of a crash that killed his heavily-pregnant mother.
The baby was born after his mother Duan, 40, had fallen from a motorcycle that was hit by a car at a junction in the city of Xiamen, in southern province Fujian.
The impact with the car triggered the birth of the boy.
Local media reports described the baby as being "knocked out" of his mother during the accident.
The infant was found to have only minor cuts and bruises and was taken to a nearby hospital for treatment.
The woman was believed to be on her way to hospital to give birth and was riding pillion when the accident happened.
The boy's father, known as Zhao, was driving the motorcycle.
He died too.
"The baby arrived in the hospital emergency department at 9:30am with numerous bruises, so was sent for further examination. Following consultation, the boy was found to have no major problems," Haicang hospital staff told the South China Morning Post.
The driver of the car is currently being held in police detention pending further investigation.
Another miracle baby survived a deadly car accident in new York last year.
A baby boy was delivered alive after a pregnant mother and her husband were killed in a car crash on their way to hospital.
Nachman and Raizy Glauber, both 21, were in taxi involved in a crash with a BMW that threw Raizy Glauber, seven months pregnant, out of the vehicle.
The pair were taken from the scene of the accident in Brooklyn to hospital where they were pronounced dead on arrival.
Doctors performed a caesarean section on the mother to deliver the baby, which was said to be in a serious condition and only 1.8kg in weight.
The driver of the cab was treated for minor injuries while the BMW driver and a passenger fled the scene, police said.