China: Mystery deepens over vanished UK bookseller Lee Bo after wife cancels missing person's report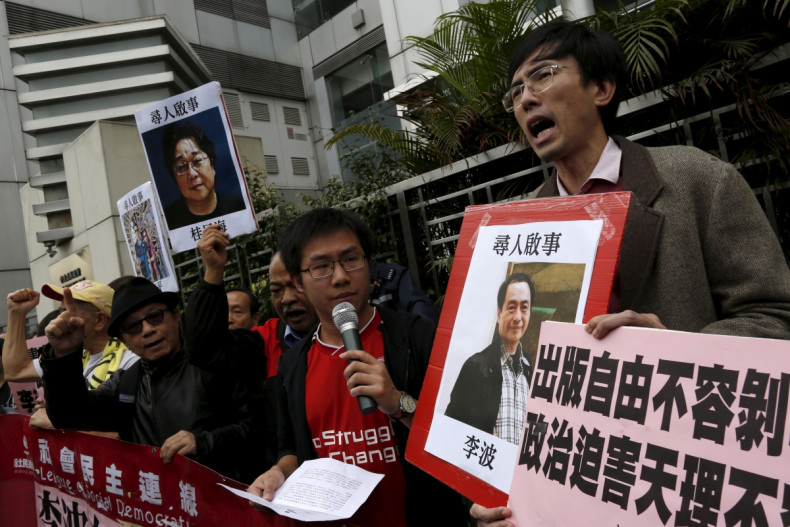 The wife of a British citizen who vanished and was linked to a Hong Kong publisher whose books criticise Chinese leaders has cancelled a missing person's report for him.
In the latest twist in the mysterious case, a letter reportedly handwritten by Lee Bo, was published by Taiwan's Central News Agency, saying that he had gone to the mainland to work with "concerned parties".
His disappearance on 30 December sparked fears that he was seized in Hong Kong by security agents.
Lee's wife Choi Ka-ping, says the letter he wrote explaining that he went to the mainland to help with an investigation, was not written under duress.
"I believe that it was voluntarily written, so that's why I retracted the case," Choi Ka-ping told reporters in brief comments reported by the Associated Press.
While activists advocating for the Lee family say they believe the letter is genuine, it was written under instruction from whoever is holding him, the BBC reported.
In the letter Lee, who also goes by the name Paul Lee, appears to be taking responsibility for leaving Hong Kong and implies he will be staying in mainland China for some time. When Lee vanished, he reportedly did not have a travel permit for mainland China with him, an indication he didn't plan to go there which sparked speculation that he had been abducted.
But his wife, Sophie Choi, said that last week that he had called her from Shenzhen, just over the border in mainland China, and told her he was helping with an investigation, the BBC reported.
He was the latest of five men associated with Mighty Current, which publishes books on Chinese political scandals. They have vanished over the last three months, with activists concerned China is squeezing freedom of expression in the enclave.
British Foreign Secretary Philip Hammond, on a visit to Beijing, said he pressed officials for information on Lee.
"We have urgently enquired, both of the Hong Kong authorities and of the mainland Chinese authorities, what — if anything — they know of his whereabouts," Hammond said.
Chinese Foreign Minister Wang Yi, speaking at the same press briefing, warned against making "assumptions or meaningless speculations" about Lee, saying that "above all, he is a Chinese citizen."
The four other missing booksellers were last seen either in mainland China or Thailand.