A suspended bridge whose bottom is fully made of glass hovering 180 metres above the valley floor in the Shiniuzhai National Geological Park in Hunan province has opened in China About 300 metres in length, the glass-bottomed bridge is aptly named Haohan Qiao meaning 'Brave Men's Bridge' in English.
It will reportedly be the first fully transparent glass drawbridge in the world. The bridge was originally wooden and later converted using glass panes 24mm thick and 25 times stronger than normal glass. Despite its minimalist look, the bridge has been designed to withstand high winds, earthquakes, frost and the weight of 800 visitors at any given time.
"The bridge we build will stand firm even if tourists are jumping on it," a worker who constructed the bridge told the state-owned China News Service.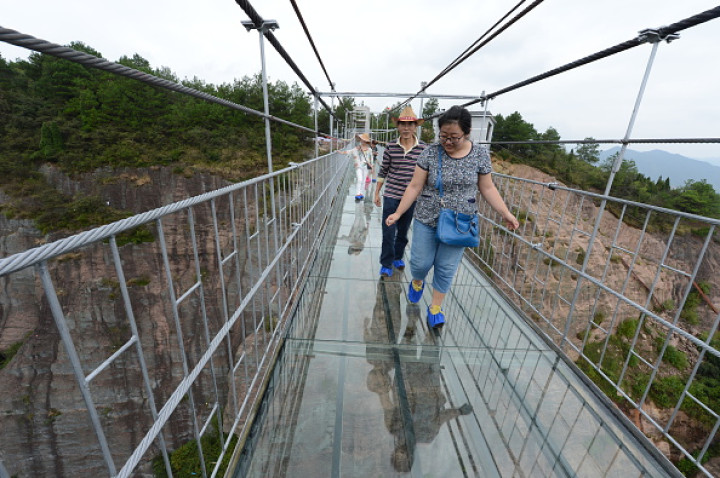 The park has announced that it will take precautions against wear and tear too as the footwear of visitors leave scuffs, smears and scratches in the glass. Previously, other glass-bottomed structures like the Grand Canyon Skywalk and the Chicago Skydeck faced similar problems having to replace the glass panels. Hence visitors have to wear blue surgical boots.
The valley's geographical view where the bridge is located is said to have inspired the scenery in James Cameron's film Avatar. China has announced plans for another glass-bottomed suspension bridge in Zhangjiajie Canyon area, about 300km north-west of Shiniuzhai.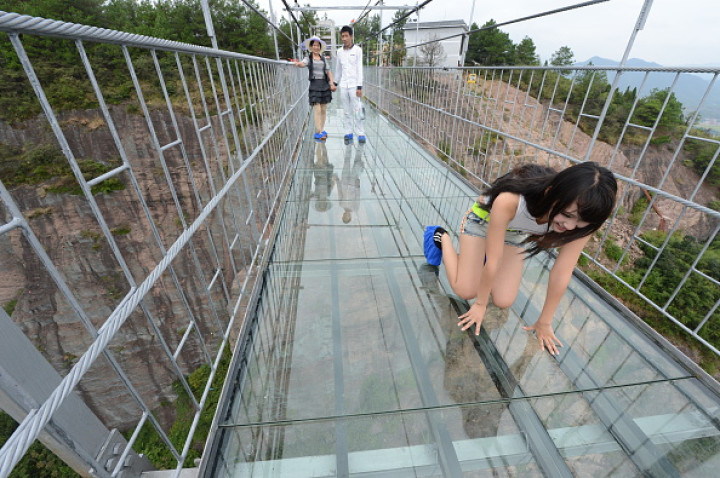 The Chinese bridge is the latest addition to an outstanding number of glass-bottomed structures all over the world like the Grand Canyon's Skywalk, the Jasper National Park Glacier Skywalk, the glass box at Aiguille du Midi in the French Alps, the Tokyo SkyTree and the new glass floor sections installed at the Eiffel Tower.