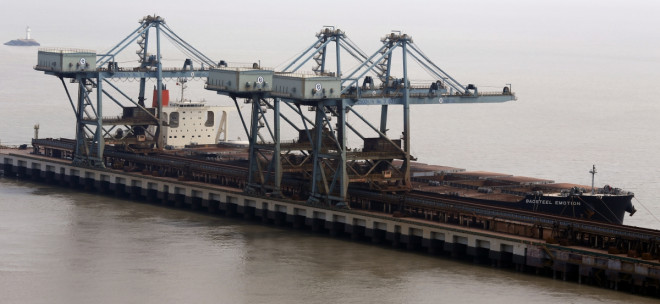 The Japanese private ship seized by China over a lawsuit claiming damages owed by Mitsui OSK Lines (MOL) dating back to the pre WW-II era, was released following reimbursement of compensation worth 2.9 billion yen (£16.9 million) to the plaintiff.
"The court has delivered a ruling.. to lift the detention of the 'Baosteel Emotion' ship," the Shanghai Maritime Court, which had ordered the seizure, said in a statement.
Reports doing the rounds in the Japanese media suggested that the ship's seizure had an underlying political motive ahead of US President Barack Obama's Asian tour, and that China wanted to demonstrate its growing political clout.
Yoshihide Suga, Chief Cabinet Secretary and government spokesman, told reporters in Tokyo that the "sudden seizure" of the private vessel was "extremely regrettable."
He also said that the ruling could "intimidate Japanese companies doing business in China", and cautioned that the decision "is likely to have, in general, a detrimental effect on Japanese businesses working in China."
The Baosteel Emotion is a massive 226,434-ton ore carrier which was detained at Majishan port in Zhejiang province on 19 April.
However, Chinese foreign ministry spokesman Qin Gang maintained that the seizure was a part of "enforcement measures.. in an answer to the plaintiff's requests" concerning "ordinary [case] involving commercial contract disputes."
The original judgement was handed over in 2007, much before regional tensions intensified in the wake of renewed focus on controversial Senkaku aka Diaoyu islands in the East China Sea.
The seizure of the ship was a dramatic climax in the case that had dragged on for decades, and a direct result of 2011 Supreme Court verdict in China.
In 1936, Daido Shipping, Mitsui's predecessor, had hired two ships on a one-year contract from the Chinese firm Zhongwei Shipping, which were appropriated by the Japanese government and later lost at sea.
A Shanghai court upheld a case filed by a descendant of Zhongwei's founder against Mitsui seeking compensation. The court also rejected an appeal moved by the Japanese firm.
The heir of Chung Wei (Zhongwei) Steamship Co had sued Mitsui in 1964, and claimed that the vessel was illegally confiscated by the Japanese navy, which did not pay any lease to the company. The legal dispute had dragged on through the 1970s and 80s.
Finally, in 2007 the Shanghai court approved the plea on behalf of the Chen family (owners of Zhongwei shipping), and instructed the MOL to pay the required compensation.
MOL had appealed in the higher courts in 2010 and 2011, but the initial judgement was upheld.
The landmark case that led to the seizure of a private ship over reimbursements due since World War II have made Japanese firms uneasy, experts say.
Last year, the MOL was able to reach an out-of-court settlement with another Chinese company Dah Loh Industrial Co in a similar case tried in the Shanghai court.