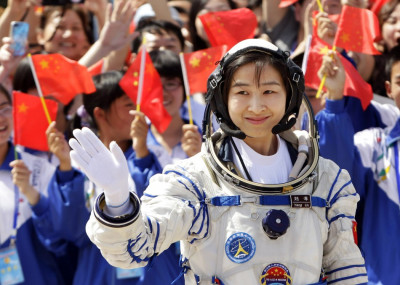 The Shenzhou 9 spacecraft was successfully launched by China on Saturday at 10:37 UTC from the Jiuquan Satellite Launch Centre. It is considered a great leap forward for China in space.
Shenzhou 9 is carrying three astronauts: Jing Haipeng, Liu Wang and Liu Yang of whom Liu Yang is the first Chinese woman to be visiting the Tiangong-1, a Chinese space lab.
Shenzhou 9 was launched to carry out the rendezvous and docking test with the Tiangong-1, an unmanned space lab launched in September 2011.
Scientists claim that Shenzhou-9 will initially be in the parking orbit, before it could dock with the Tiangong1. They believe that it will take approximately two days for Shenzhou 9 to get near Tiangong-1. First docking is likely on June 18.
Shenzhou-9 weighs around 8,000 kg and it is around 9.20 metres long. The spacecraft is equipped with navigation, communications, flight control, thermal control, batteries, oxygen tanks, and propulsion systems.
"The rocket was designed with a higher degree of reliability and equipped with more advanced positioning software to ensure a more precise entry into orbit," Nasa quoted Liang Xiaohong deputy head of the China Academy of Launch Vehicle Technology, as saying.
The spacecraft was developed by several organisations, which had taken part in the Chinese human space programme, but the primary contractor to design and develop the spacecraft was the China Academy of Space Technology (CAST), responsible for the overall concept of the vehicle.
CAST was responsible for the design of the Orbital and Re-entry Module, and the Shanghai Academy of Spaceflight Technology (SAST) was responsible the design of Service Module, as well as the electrical power system, propulsion system, and telemetry, tracking and communications systems.
The onboard applications of the aircraft were made by the China Academy of Science. The development of the environment control and life support system was tasked to the Institute of Space Medicine Engineering, while the Academy of Aerospace Solid Propulsion Technology was responsible for the launch escape system, according to a Nasa report.
Chinese scientists see this launch as a key step towards gaining the experience for the construction, management and operation of a space station.