A Chinese woman has paid about £700 to save 100 dogs from being eaten during a dog meat festival, Agence France-Presse quoted a local website as reporting.
Yang Xiaoyun paid about CN¥7,000 (£692) to save around 100 dogs in the southern city of Yulin,web portal Netease reported.
Yulin, with a population of about 600,000, hold the festival annually, with protests over animal cruelty growing in recent years.
But the city's residents defend the practice, insisting the dogs are killed humanely.
"It's healthy, just like raising pigs or chickens, it's fine. But you definitely must not eat dogs if you don't know the source, or dogs which have illness," a local named Teng Jianyi told CNN, as he devoured a dog dish along with his family members.
A report in the Daily Telegraph says the city authorities have tried to distance themselves from the event.
The city's government has tried to distance itself from the event.
"Some residents of Yulin have the habit of coming together to eat lychees and dog meat during the summer solstice," the city's news office wrote on Sina Weibo, a Chinese Twitter equivalent.
"The 'summer solstice lychee and dog meat festival' is a commercial term, the city has never [officially] organised a 'dog meat festival'," it added.
"Yulin is an open, tolerant and civilised city," it said. "We welcome people across the world to pay attention to Yulin."
Nascent animal rights groups in China have been quite vociferous against the festival. About 10 activists, who tried to stage protests at the festival venue, were swiftly removed by unidentified men.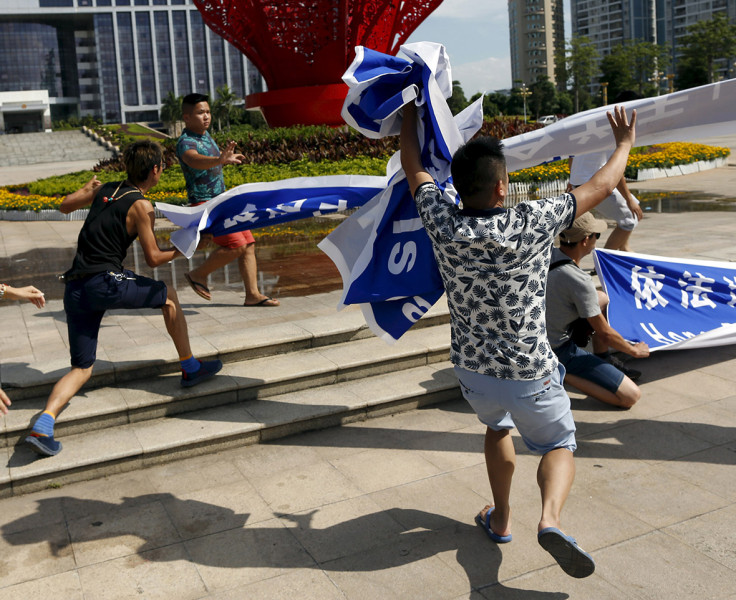 The anti-festival campaigners were holding placards, which read: "Crack down on illegal dog meat treat" and "Punish illegal dog transport".
The protests have failed to move local authorities who say there is nothing in existing Chinese law to stop the consumption of dog meat.
Adam Parascandola, director of animal cruelty issues at the US-based Humane Society, said: "Many of these animals are stolen pets, and most of the dog meat trucks coming in are in total breach of China's very clear laws on animals for human consumption. How much longer can China simply allow the Yulin authorities to flout the law like this?"