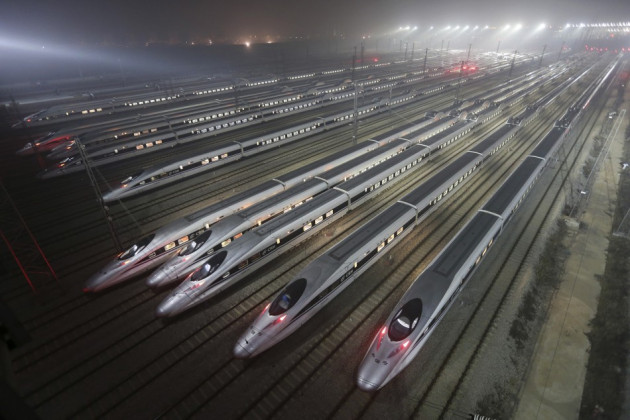 The world's longest high-speed rail line, travelling a 1,425-mile (2,300km) route from China's capital of Beijing to the southeastern city of Guangzhou, has been opened in honour of late Chinese leader Mao Zedong.
The first bullet train, running at an average speed of 186mph (300 km/h) reached Guangzhou in about eight hours. The same journey previously took up to 22 hours to complete.
The train line passes through five provinces and stops in 35 cities, including the main hubs of Zhenghzhou, Wuhan and Changsha.
China's state-run news agency Xinhua said 155 bullet trains are to run in both directions on the line every day.
Ticket fares vary from £86 for a standard seat to £270 for a seat in business class - more than twice the monthly salary of a low-level white-collar worker.
According to Chinese state-owned media, the opening ceremony was held on 26 December to commemorate the 1893 birth of Mao Zedong.
With the new line, China's high-speed rail network is 6,000 miles long, Xinhua reported. The high-speed rail programme was launched in 2007 to connect vast regions of the world's most populated country.
Under the £248bn project, China will be crossed by another 10,000 miles of high-speed rail track by 2020.
In 2011, two new bullet trains crashed because of faulty signalling equipment. Forty people were killed in the collision in eastern Zhejiang province and allegations of corruption and shoddy construction techniques surfaced.