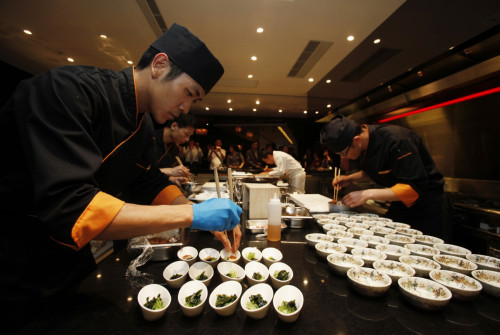 China's catering sector recorded the slowest growth in 21 years, as the government's frugality campaign and its anti-corruption measures cut down spending by officials in luxury restaurants.
The official Xinhua news agency, citing the China Cuisine Association, reported the Chinese catering sector expanded only 9% on year in 2013, the lowest level in 21 years.
The report by the association added that high-end dining businesses even reported a drop in revenue last year, rarely seen in recent years. The restaurants across the world's second-largest economy earned a total of 2.54tn yuan ($420bn, €308bn, £256bn) in 2013, with the upmarket catering sector suffering big losses, according to the report.
In order to tackle the difficult situation high-end restaurants are offering breakfast, promoting group meals and introducing fair-priced dishes, the report said.
Businesses selling expensive liquor and cigarettes also suffered from reduced spending by the executives. In addition, the tourism market has also seen a decrease in tours at public expense.
Anti-Corruption Measures
China's ruling Communist Party's public image got tainted after the outbreak of a number of corruption scandals, involving top party members and government officials.
Eliminating corruption from the Party and the government was one of the reform measures proposed by the new President Xi Jinping.
He suggested a frugality drive as part of the Communist Party's high-profile anti-corruption campaign to regain its credibility and stop wasting public money on luxury banquets.
Xi said that widespread corruption in the country was threatening the survival of the Party.
Liu Tienan, the former deputy head of the National Development and Reform Commission, was removed from his office in August 2013 after he was found to have received huge amounts in bribes.
Furthermore, Politburo member Bo Xilai was ousted over corruption allegations, while the state-owned China Mobile Communications removed the head of its Guangdong unit who is being probed by authorities.
In July 2013, former Railways Minister Liu Zhijun was given a suspended death sentence for corruption and abuse of power.