China's internet censors have tightened their grip on Google over the Christmas holidays, closing the last remaining loophole used to access Gmail.
For the six months since China first imposed a block on the email service, users had been able to retain access to their inboxes through third-party applications such as Microsoft Outlook and Apple Mail, but this backdoor has now also been slammed shut by the country's so-called Great Firewall.
'There's nothing wrong on our end'
A dip in traffic from China to Gmail's servers was first noticed on Boxing Day, and as the block continues to hold at the time of publication, three days later, Google spokesperson Taj Meadows said: "We've checked and there's nothing wrong on our end."
Speaking to Reuters, a pseudonymous spokesperson from GreatFire.org, a local freedom of speech advocacy group, said: "I think the government is just trying to further eliminate Google's presence in China and even weaken its market overseas.
"Imagine if Gmail users might not get through to Chinese clients. Many people outside of China might be forced to switch away from Gmail."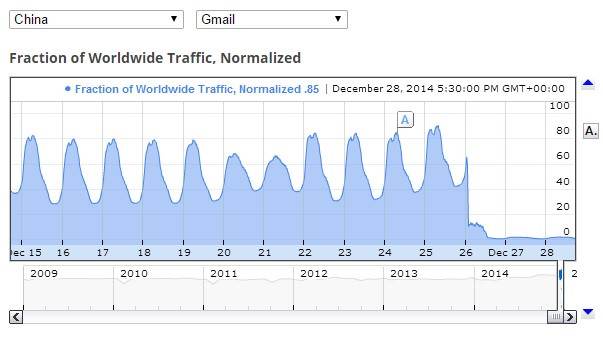 China and its Great Firewall is a regular culprit of online censorship, with many of Google's services blocked in June, in the run up to the 25th anniversary of the Tiananmen Square massacre, and previous strangleholds have been felt at times of political unrest in the country.
Hua Chunying, a spokeswoman for the Chinese Foreign Ministry, said she was unaware of the Gmail block. Speaking to Reuters, she added: "China has consistently had a welcoming and supportive attitude towards foreign investors doing legitimate business here. We will, as always, provide an open, transparent and good environment for foreign companies in China."
Google previously clashed with China in 2010, when the search giant stopped censoring its search results in the country. Its online services were moved to Hong Kong, where restrictions are less strict, but since then it has been difficult for the Chinese to access all of Google's services.
Access to Google has always been possible by using a virtual private network (VPN), which masks the location of the user, and is the only way many Chinese citizens can access Facebook and Twitter, too.