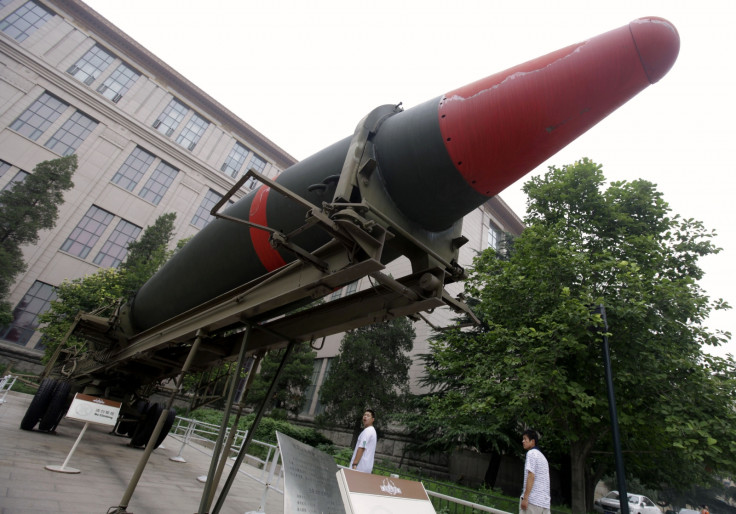 China's next-generation intercontinental ballistic missile (ICBM), which can strike a target anywhere in the world, is expected to be inducted by the People's Liberation Army (PLA) during the first half of 2018.
The Dongfeng-41, which has a strike range of 12,000kms and can carry up to 10 nuclear warheads, has undergone its eighth test, reports China's state-run Global Times. The multi-warhead ICBM was first introduced in 2012.
The missile is thought to be equipped with advanced evading measures including throwing dummy flares so as to dodge enemy interception. The Dongfeng-41 is reportedly a solid-fueled missile, and can reach speeds of up to Mach 10.
"It can carry up to 10 nuclear warheads, each of which can target separately," Xu Guangyu, a senior adviser of the China Arms Control and Disarmament Association, told the Chinese mouthpiece. He said the missile must have "matured considerably" if the PLA decides to make it operational in 2018.
"Once the Dongfeng-41 goes into service, China's ability to protect its own safety and to prevent wars would greatly increase," he added.
Dongfeng-41's predecessor, Dongfeng-31A, was also a three-stage solid-fuel rocket and was capable of hitting any target across the North Hemisphere. While the missile's seventh test was said to have been conducted in April 2016, the eighth one reportedly took place in November 2017. The exact locations of these tests were not revealed.
Song Zhongping, a former member of the PLA's Second Artillery Corps (Rocket Force), told the Global Times that China is not in an arms race with any other country when it comes to developing weapons like Dongfeng-41. He added that the latest deployment only demonstrates China's nuclear deterrence abilities.