In a major step to enhance its battle capabilities, China reportedly deployed ballistic missiles that were capable of carrying nuclear warheads to hit targets in the west coast of the US mainland, the Pentagon said in its annual report on Tuesday (6 June).
The Dongfeng-26 (DF-26), a conventionally armed intermediate-range missile, was in all likelihood deployed last year, the US Department of Defence said in its report to Congress on China's military power.
The missile could be used for conventional strikes against vessels in the region, it said. However, it is unclear in what numbers and into what brigades of the People's Liberation Army (PLA) of China deployed it.
It is also not clear when exactly in 2016 Beijing deployed the missile, but it was anticipated since September that the PLA would deploy it after it was displayed during a military parade hosted by President Xi Jinping, Bloomberg noted.
The DF-26 has a range of at least 2,200 miles (3,500km), far enough to reach the US naval bases in Guam.
The Pentagon report also noted that China is likely to build more military bases around the world in a bid to support its distant deployments. After establishing a facility in the African nation of Djibouti, China may consider Pakistan as its possible future location, the report predicted.
China's militarisation
"China most likely will seek to establish additional military bases in countries with which it has a longstanding friendly relationship and similar strategic interests, such as Pakistan, and in which there is a precedent for hosting foreign militaries," the Pentagon said.
"This initiative, along with regular naval vessel visits to foreign ports, both reflects and amplifies China's growing influence, extending the reach of its armed forces," AP reported.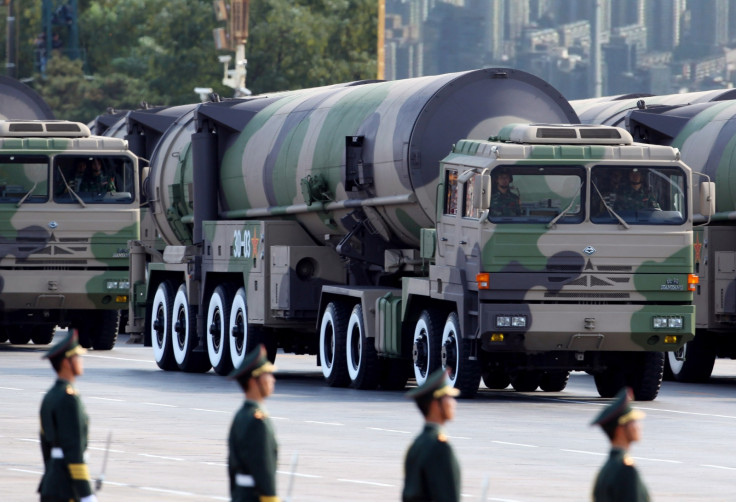 China has been boosting its military capability, with its 2016 defence budget exceeding the Pentagon's estimate of $180bn. It is higher than China's official budget figure of £109bn, and despite its slow economic growth, the country's spending will increase in the "foreseeable future", the report noted.
Djibouti, where China is building its first overseas naval base, is already home to a key US military base. It is also strategically located at the southern entrance to the Red Sea en route to the Suez Canal, Reuters noted.
China's construction in the African nation is reported to have caused concern in India and its neighbours. Chinese deployment in Pakistan is said to have sparked concerns in Bangladesh, Myanmar and Sri Lanka as well.
The Pentagon report did not address potential worries that India would have on the matter. But it noted that Pakistan is already a major market in the Asia-Pacific region for China's arms exports. Out of more than $250bn in Chinese arms exports from a four-year period till 2015, Islamabad accounted for $9bn.
Pakistan and China also signed a deal last year for the purchase of eight submarines.
While China is thought to have not occupied large tracts of new land to create more artificial islands, it has significantly built up the reefs with extended runways and other military facilities, especially in the South China Sea, the Pentagon report said. China has also increased patrols and security to protect them, it added.
The report predicted that China's first indigenous aircraft carrier would likely reach initial operating capability in 2020.