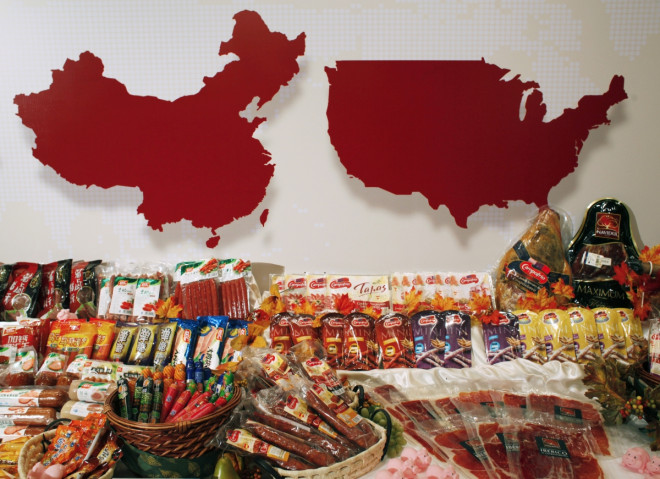 Two top executives at Chinese food and beverage giant WH Group were awarded company shares worth several million dollars for their vital role in the acquisition of the world's largest pork producer Smithfield Foods in 2013.
WH Group's CEO Wan Long, who is known as China's "Chief Butcher," and Yang Zhijun, an executive director in charge of investment, merger and acquisitions and financing, were given nearly $600m (£359m, €434m) worth of shares, according to a preliminary stock exchange filing.
This "represents recognition and reward for the contribution to the acquisition of Smithfield by the directors," WH Group said in the filing.
The Chinese pork giant, previously known as Shuanghui International, acquired US-based Smithfield Foods in a $4.9bn deal, one of the biggest Chinese acquisitions of a US company in recent times.
Smithfield holds the Farmland, Armour, Cook's and Healthy Ones brands.
WH Group announced an up to $5.3bn IPO in Hong Kong last week, the second-biggest listing by a food and beverage company. The company is expected to have a market capitalisation between HK$117bn and HK$164bn.
"WH Group's listing on the Hong Kong Stock Exchange is in line with our stature as the world's largest pork company, with an increasingly global reach," Wan said in a statement.
"Being a listed company in a major financial centre such as Hong Kong will raise our standing, promoting accountability and transparency to drive our future growth."
In three decades, Wan turned WH Group from a small player in the sector into the world's largest pork company.
He has had the backing of Goldman Sachs, the Singaporean state investor Temasek Holdings and Wen Yunsong, or Winston Wen, son of China's former premier Wen Jiabao, among others, according to Reuters. In addition, he is a member of the National People's Congress, China's legislature.