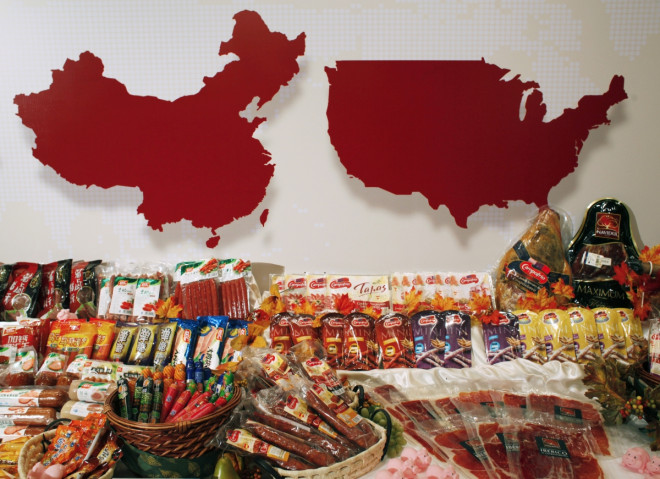 China's WH Group, the world's biggest pork producer, decided to scrap its planned Hong Kong initial public offering due to lacklustre investor demand for the company's stock.
"In light of deteriorating market conditions and recent excessive market volatility, the company, having consulted the joint sponsors, has decided that the global offering will not proceed at this time," WH Group said in a statement.
The company added that it will return investors' money.
It originally hoped to raise as much as $5.3bn (£3.2bn, €3.8bn) from the Hong Kong listing, but it reduced the size by more than half last week due to weak demand.
Bloomberg, citing people familiar with the matter, reported that senior executives at the company resisted selling shares at the low end of the IPO price range.
As part of the IPO, WH Group's CEO Wan Long, who is known as China's "Chief Butcher," and Yang Zhijun, an executive director in charge of investment, merger and acquisitions and financing, were given nearly $600m (£359m, €434m) worth of shares, according to a stock exchange filing.
The Chinese pork giant, previously known as Shuanghui International, acquired US-based Smithfield Foods in September in a $4.9bn deal, one of the biggest Chinese acquisitions of a US company in recent times. Smithfield holds the Farmland, Armour, Cook's and Healthy Ones brands.
The company hired 29 underwriters for its IPO, a record in Hong Kong, but they failed to convince investors.
WH Group's failure underscores the volatility of Hong Kong's IPO market, one of the biggest in the world. The growing number of underwriters in IPOs is seen risky by some analysts, as individual banks are likely to devote less time and resources to marketing an offering in such situations.
"With the crazy number of banks working on the IPO, people were worried to tell the truth to the company and just said what the client wanted to hear," a source told the New York Times.
Hong Kong's IPO market has been helped by high-profile Chinese companies. However, e-commerce giant Alibaba is opting file for a US IPO, after Hong Kong regulators did not agree to the company's proposed corporate governance structure.