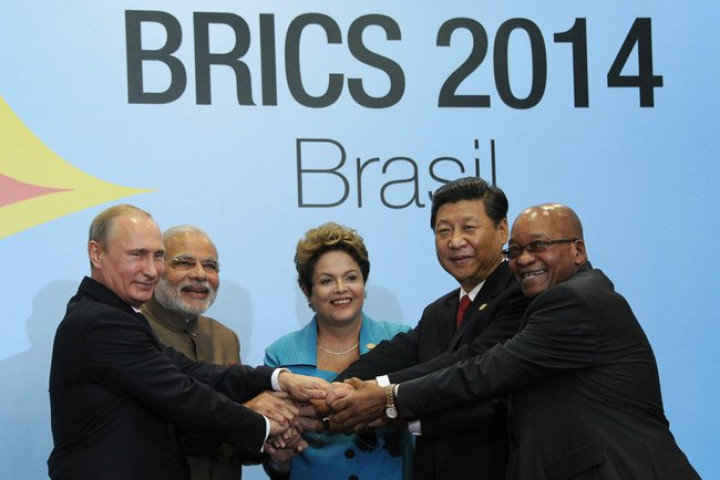 China's official mouthpiece Xinhua news agency has slammed the Western media, over their negative opinion about the Brics group that reflects its "zero-sum thinking" – the belief that if one person gains, other people must lose.
Western media have been giving a bleak picture of the development of Brics and the group's prospects, Xinhua said in an editorial, adding that they even predicted the disintegration of the group.
"The negative opinion reflects the West's zero-sum thinking," the news agency writes.
"Such prejudiced and short-sighted judgement has obviously neglected several key issues. Western media have played up the economic difficulties of the BRICS countries, confusing the cycle of growth with the megatrend."
Xinhua admitted that some Brics countries have been hit by the recent decline in commodity prices, the US Fed's withdrawal from quantitative easing and sluggish external demand.
Nevertheless, the Brics countries had been driving global economic growth while developed Western countries slid into recession, according to the agency.
Economic growth in developed economies averaged around 4% from 2007 to 2013, while the Brics countries grew by 37%. In addition, the group's economic scale largely matched that of G7 group of industrial nations in 2014.
"The current setback does not mean a reverse of the overall positive trend of growth for these countries, as they are resilient and have enough room for adjustment, with over 40% of the world's population, over 26% of its territory and more than 20% of the global GDP," Xinhua writes.
It noted that the Brics countries are pushing forward structural reforms to promote growth and reduce dependence on external markets, and these efforts are set to be beneficial for the global economy.
"Western media's claim that BRICS members lack solidarity due to divergences can not hold water," it said.
"In the age of globalization, differences have not impede their cooperation, but on the contrary have become a plus in their win-win cooperation as their economies are highly complementary."
"The world has a better future if the West abandons zero-sum thinking and pursues a win-win path with emerging economies," Xinhua concluded.
Economist Jim O'Neill, who coined the term 'Bric' earlier said Brazil and Russia are set to go out of the group by the end of the decade if their economies continue to stall.
Russia has seen its economy battered by falling oil prices since mid-2014 and the government has predicted it will slide into a recession this year. Brazil has also seen its economic expansion slow down and is expected to grow by less than 1% in 2015.