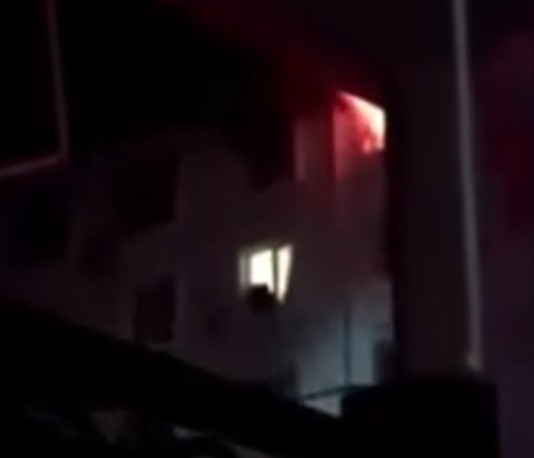 Dramatic footage of firefighters catching two women falling from a burning six-storey building has gone viral in China.
According to local news reports, a mother and her daughter were caught in a blaze at a residential building in Jiaxing, Zhejiang province, on Saturday (25 March) at around 9pm local time.
The pair were on the top floor of the building when it caught fire, with onlookers capturing dramatic mobile phone footage of the both of them dangling out of a window.
The state-funded news website www.thepaper.cn reported that, after her rescue, the 29-year-old daughter told police the fire was started when an electric blanket overheated and ignited.
Unlike her father, who was able to escape from a window soon after the firefighters arrived, the daughter found herself trapped with her 51-year-old mother.
The footage shows the women falling from the building in desperation, as firefighters plucked them from the air from a window beneath the blaze.
The South China Morning Post reported that the mother had burns on her right arm and was taken to hospital, but that the daughter and father were unhurt in the incident.
Nine fire engines with 43 firefighters were called to the scene and one of the firefighters, Jiang Tiancai, told the newspaper that he felt the pressure of the moment.
He said: "We just got her feet when she began to fall, and it was scary. I wouldn't be able to sleep in the future if I had failed to catch her."
In the video clip, one of the women is seen falling and Jiang said he was able to grab her and pull her to safety. He said: "I just attempted to catch her, and pulled her into the building with the help of my partners".
Another firefighter, Wei Tingbiao, said according to the Associated Press (AP): "The girl had also been standing there for a very long time, and couldn't hold on anymore. So I asked the policeman behind me to grasp me.
"After the [safety harness] was linked on her, I tightly held her leg. As she was falling down, I pulled her into the building".
An investigation into what cased the fire is underway.