Chinese New Year 2014: Baidu Map Captures Mass Homeward Migration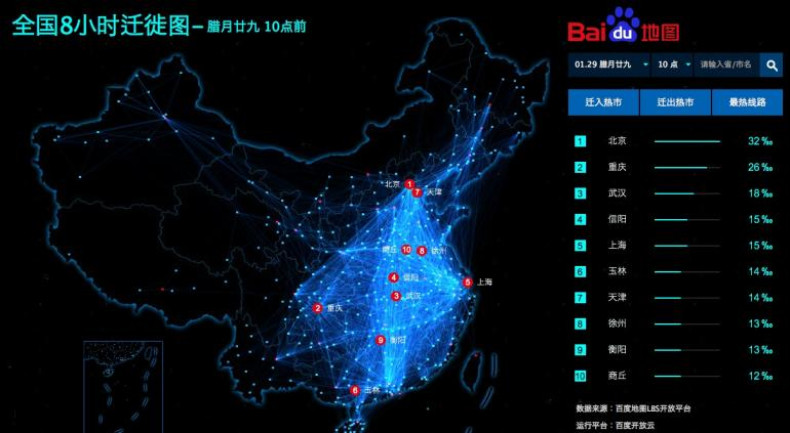 With hundred of millions of people on the move within China for the start of the Year of the Horse, the phenomenon is the biggest human migration in the world.
In addition, millions more travel to China from overseas to celebrate the coming of the new year with friends and family. The increase in travel is dubbed the Spring Festival Transport or Chunyun and lasts for around 40 days.
Baidu, China's largest search engine, has captured this incredible commute in an interactive map. It was created by logging data from smartphones equipped with Baidu Maps or other applications using its location-based platform.
The largest source of location-based date in China, Baidu Maps has over 200 million registered users and received more than 3.5 billion "position requests" every day as of August 2013.
The surge in commuters begins in the weeks before the start of the Lunar New Year, as Chinese citizens traverse the country to celebrate the coming of the Year of the Horse.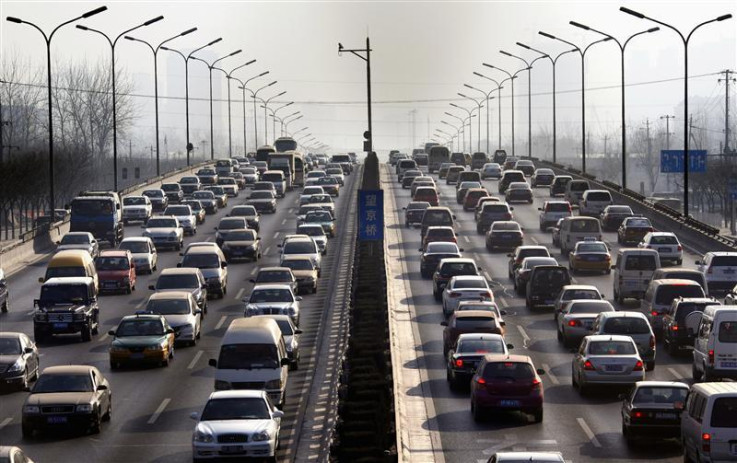 Around 3.2 billion trips will be made by road during Chunyun
REUTERS
Officials anticipate there will be 3.6 billion passenger trips in this year's season alone, which is a marked increase of 200 million over 2013. Buses, cars and road transport make up 3.2 billion journeys, while an estimated 258 million trips will be made by train.
The rail networks struggle to cope with overcrowding and ticket price hiking common. Train stations are seething masses of humanity and there is freqent conflict between passengers.
Another 42 million journeys will be made by air.
On the map, "Baidu Migrate", the origin of travellers and their routes are displayed in a complex web of crisscrossing lines. The most popular are brighter and the map is updated hourly to show new journeys being made.
It also includes a search function that allows users to see what is trending and view statistics for a specific location.
Another reason for Chunyun is due to education reforms, as the number of university students studying away from home has increased. As the university spring break occurs over the new year, a significant proportion of travellers are students.