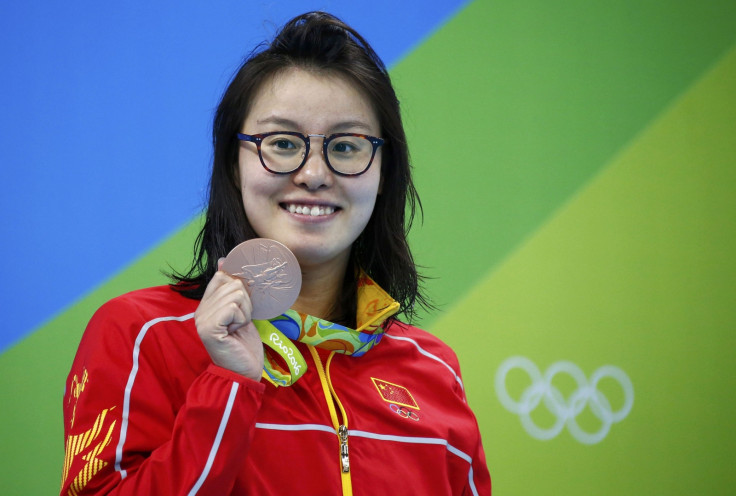 Chinese swimmer Fu Yuanhui has received praise in her home country for breaking the taboo surrounding the mention of menstrual cycles of women athletes. Fu finished the women's 4x100m medley relay on Sunday (14 August) at the 2016 Rio Olympics 2016 while on her periods.
After her team came fourth in the competition, the 20-year-old athlete, said: "I don't think I performed very well today. I feel I let my teammates down. It's because my period came yesterday, so I felt particularly tired — but this isn't an excuse, I still didn't swim well enough."
Soon after her admission, Chinese sports fans went gaga over her boldness and praised the young swimmer for having spoken up on a topic considered taboo in China. "Our Ms Fu dares to say anything," posted one admirer of Yuanhui on Sina Weibo — a Chinese micro blogging (Weibo) website.
"I really admire Fu Yuanhui, for swimming while she was on her period — women can be affected during their periods, especially with period pain... she felt guilty for coming fourth, but Fu Yuanhui we're still very proud of you," user TAO wrote on Sina Weibo.
"It is a normal physiological phenomenon, so why can't we mention it? Fu Yuanhui is awesome!," wrote another fan of her.
Fu's frank admission has also sparked a discussion surrounding periods and tampons, which are not used much in the country — according to a survey by Cotton Inc, only about 2% of women in China use them. Cultural factors and poor sex education have been cited as reasons for the unpopularity of tampon use. Besides, many women did not know how to use them, the survey revealed.
"Someone accused Fu of lying, asking how she could have gone in the water on her period. Chinese people have prejudices about tampons — as a woman over 30, I'd been ignorant, and full of fear, about tampons until now too," user Dvingnew wrote.