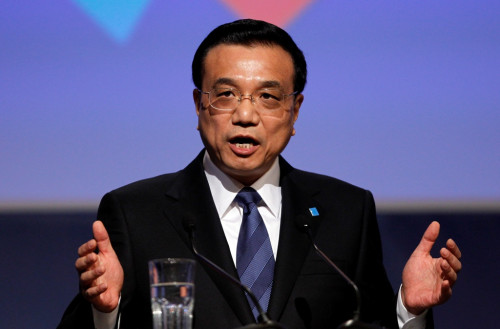 Chinese Premier Li Keqiang has called for a complete halt to the construction of new government buildings, training facilities and hotels, throwing his weight behind an order that Beijing has struggled to enforce in recent months.
Li's call came during a meeting of China's State Council, or cabinet, and was part of an effort to check government spending, the state-run Xinhua news agency reported on 12 February
Li also called for restrictions in the number of people working in government and said the money saved should be spent to improve the lives of ordinary people, Xinhua reported.
He pledged "complete transparency" regarding what are known as the "three public consumptions" by government – vehicle purchases and maintenance, overseas trips and official receptions.
"A strict accounting system should be enforced as a safety lock on public funds. Auditing and supervision should be imposed on all public funds, state-owned properties and state-owned resources," Xinhua quoted Li as saying.
Five-Year Ban
In July 2013, the central government announced a five-year ban on the construction of new official buildings. Results have been erratic and in December 2013 Beijing warned that the ban was not being enforced effectively.
In the wake of public anger over graft and extravagance by some officials, China's leadership over the past year has attempted to curb bribery, gift-giving, lavish banquets and careless government expenditure.
Activists have also demanded that officials publicly disclose their personal wealth. However, officials' wealth is an extremely sensitive subject and some of the most outspoken activists have been jailed or detained.
Fine Wine Sales Hit
Chinese President Xi Jinping's discouragement over lavish gift giving, as part of the country's campaign to clamp down on corruption and misconduct by officials, has reduced the demand and sales of fine wine.
China and Hong Kong's appetite for the likes of Bordeaux has sharply fallen over the last year.
Compiled sales data from fine wine merchants and auctioneers Acker Merrall & Condit, Christie's International, Sotheby's, Zachys Wine & Liquor, and Hart Davis Hart Wine, show sales plunged 15% to $278m (£167m, €203m) in 2013.