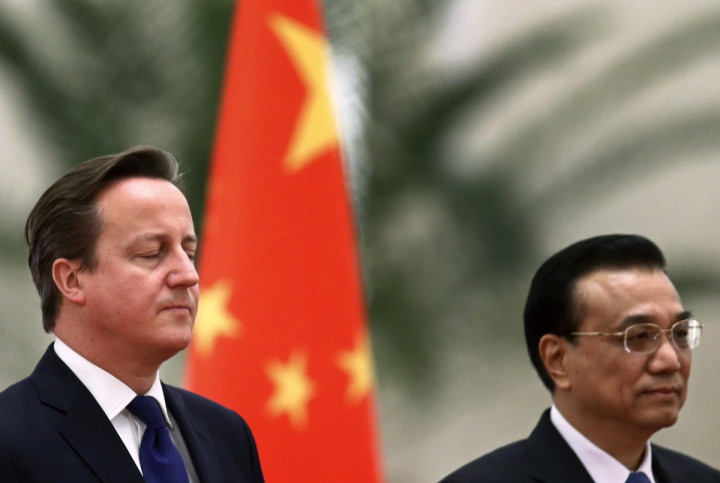 When Downing Street policymakers sit down to draft strategy towards China, they must surely do so with a weary air of inevitability.
For when it comes to dealing with China, you're damned if you do, damned if you don't.
After David Cameron welcomed China's current leader Li Keqiang before he took the hot seat in 2011, he was criticised by the Free Tibet movement for hosting a "cosmetic box-ticking exercise" and ignoring human rights abuses in China.
Cameron, perhaps with the criticism ringing in his ears, then decided to meet with the Tibetan leader in exile, the Dalai Lama, in 2012. Beijing, irked by what it viewed as the UK's pandering to a "separatist", cancelled the next human rights summit.
The prime minister visited Beijing last year, in an effort to patch things up, and was again warned ahead of Li's visit this week not to preach to China on the subject of human rights.
If anything, the pageantry rolled out in front of Li and company shows that this trip, from a UK perspective, is more about buttering up than rocking boats. As well as meeting with Cameron and other cabinet members, Premier Li is set to get an audience with the Queen too.
And while the PM's aide said that anything and everything is up for discussion over the three-day trip, news emanating from the first day of the trip suggests Cameron has decided that China's money is more valuable than a vote of conscientious confidence from protestors back home.
The charm offensive seems to have worked, at least on the surface.
Trade Deals
The Chinese premier touched down in London this morning joined by 200 'business leaders' – industry chiefs ready to pump money into some of the largest projects in the UK's pipeline.
Represented on the delegation are sectors such as nuclear, solar, engineering, telecoms, financial services and motor. They're expected to ink deals worth up to £18bn, before flying to mainland Europe to sprinkle some Yuan over the troubled Greek economy later in the week.
It's a classic example of China's policy of chequebook diplomacy: project finance in return for international legitimacy.
Cameron too has learned how to play the game: political progress is sacrificed in return for access to Chinese coffers. The prime minister will keep schtum over Tibet, over freedom of speech and over political prisoners, in return for Chinese liquidity helping to buoy the UK economy, much to the ire of domestic campaigners.
The British government will be hoping the trip allows for some breakthrough on trade going the other way too, after China's ambassador to the UK, Liu Xiaoming, used the state visit to put his host nation in its place: firmly behind France and Germany, in terms of China's European trade priorities.
"Before I came here, we used to say, when we talked about Europe: 'Britain, France and Germany'. But unfortunately many opportunities were missed in the past year or so – and we all know the reason behind it – people now start talking about 'Germany, France and Britain'," Liu said, reflecting the notion that old wounds have yet to heal.
Carrot and Stick
The noises coming from Camp Beijing in recent days suggest that it's luring London with the carrot, chastising with the stick.
Chinese government officials have made no secret of their wishes for Britain to get a move on with the extra runway for Heathrow or on the loosening of visa restrictions for Chinese nationals.
The latter seems to be on its way, the former may prove more difficult. "We expect Heathrow will have a new runway," said ambassador Liu, in a news conference last week, with a tone that implies that what China wants, China gets.
Given that the China Investment Corp – a sovereign wealth fund – holds a 10% share in the airport, pressuring the UK government to invest in expansion doesn't seem so surprising.
Nor does it seem beyond the realm of possibility that despite social and environmental opposition to an extra runway at Heathrow, pressure from Beijing will eventually come out on top.