Chiwetel Ejiofor, the London-born actor hotly tipped for an Oscar following his performance in the film 12 Years a Slave, says the history of slavery should be taught in British schools in the same way as the Holocaust.
Although slavery is a part of the national curriculum, Ejiofor believes the subject is not given enough attention and there needs to be more honesty about Britain's past so people can understand how it became the place it is today.
English Heritage already publishes details about how English country homes including Kenwood House were wholly or partially funded by "blood money", and Ejiofor, who is of Nigerian descent, believes the links should be made explicit to young people.
"We don't really investigate what Bristol or London or Bath would be without the slave trade," Ejiofor told the Sunday Times. "Because we really like these cities and the people who live there. So it's easier to close the lid on it. And let it go."
Ejiofor even believes that the book by Solomon Northup on which the film is based should be taught in schools in the same way as Anne Frank's The Diary of a Young Girl.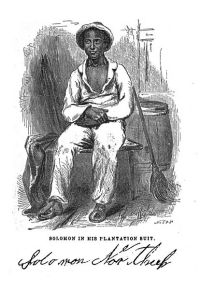 In his book, Northup recounts how he lived as a free man in New York but was enticed south for a job offer, when he was kidnapped and forced to work as a slave. He finally escaped 12 years later.
Steve McQueen, the Londoner of Grenadian descent who directs the film, agrees with Ejiofor and says better education about Britain's dark past may help people understand some of the problems that still affect black communities.
"They (young black people) need to know where they come from," he said. "This helps to understand the repercussions of slavery with us today – drug abuse, single-parent families and the number of young black people in jail."
McQueen and Ejiofor are both tipped to win Baftas and Oscars for the film. Recently McQueen complained that Hollywood had made barely any films about slavery, compared with the hundreds of films about World War II.
During the era of the so-called "trade triangle", it is estimated that up to 12.5m slaves were transported from Africa to the West Indies and America. There they were exchanged for goods including such as sugar, coffee, tobacco, rice and cotton which was taken back to Europe.
Although Britain outlawed slavery in 1833 it is still believed to exist in some communities today.
Watch the trailer for 12 Years a Slave on YouTube, below: