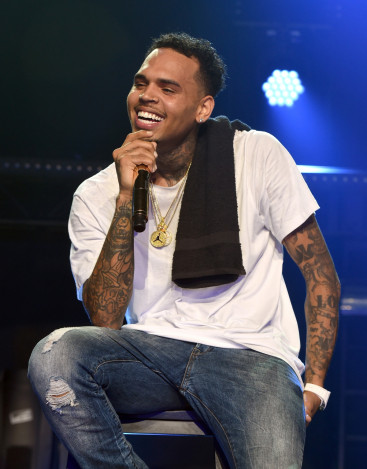 Chris Brown appeared to attack Kehlani Parrish in an Instagram post on 29 March, just a day after The Way singer disclosed that she had tried to commit suicide.
The 20-year-old songstress is said to have split from NBA star boyfriend Kyrie Irving - who plays for the Cleveland Cavaliers - after it was alleged that the r'n'b star had cheated on Irving with musician Jahron Anthony Braithwaite, aka PartyNextDoor.
"Girls be mad at a n***a for f*****g around wit b*****s but her DMs got more names then the Declaration of Independence. #YEAHIMTHROWINGSHADE," wrote Brown, 26. "They look like they have stank sex!!!!," he wrote. "#KYRIEMVP," he added.
"There is no attempting suicide. Stop flexing for the gram. Doing s**t for sympathy so them comments under your pics don't look so bad," he said. "OK IM DONE. Guess she gone have to watch the games from a real "box" now. "THE TELEVISION" #OHB "OUTTA HERE BIH," he then followed on.
His post come hours after, PartyNextDoor reportedly shared a photo on Instagram of him with a woman believed to be Parrish. According to HollywoodLife, the musician had captioned the photo: "After all her shenanigans, still got the r'n'b singer back in my bed." The photo has since been deleted.
According to MTV, Parrish posted an image from a hospital bed showing her arm hooked up to an IV. The caption read: "Today I wanted to leave this earth. Being completely selfish for once."
The caption continued: "Never thought I'd get to such a low point. But.. Don't believe the blogs you read.. No one was cheated on and I'm not a bad person.. Everyone is hurt and everyone is in a place of misunderstanding.. But as of today, I had no single wish to see tomorrow.. But God saved me for a reason, and for that.. I must be grateful.. Cuz I'm not in heaven right now for a reason.. On that note.. Bye Instagram."
Parrish has denied cheating with musician PartyNextDoor, who she split in late 2015.
The Samaritans provides a free support service for those who need to talk to someone in the UK and Republic of Ireland. It can be contacted via Samaritans.org or by calling 116 123 (UK) or 116 123 (ROI), 24 hours a day, 365 days a year.