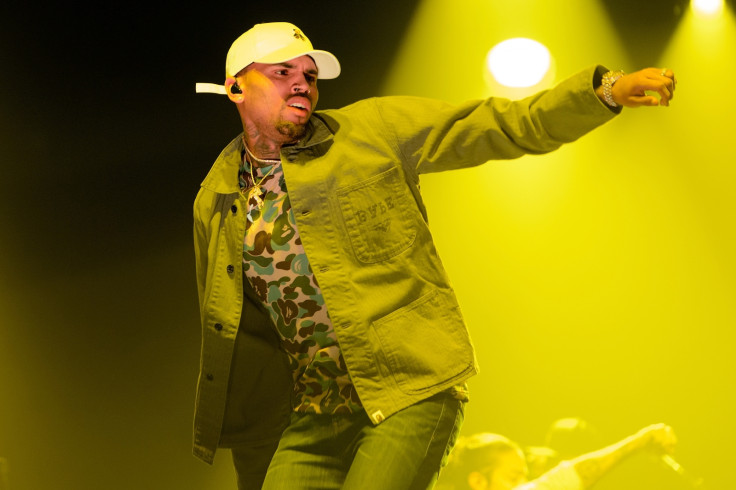 Chris Brown may not be having the best week. With a new lawsuit to contend with and fresh assault allegations, the Back To Sleep singer is now accused of firing his longtime publicist in a string of expletive-filled text messages. Brown has responded to the reports on Instagram claiming the allegations are part of an 'extortion' plan against him.
Brown, 27, is said to have entered a heated argument with PR manager Nicole Perna after complaining she did not do enough to promote his clothing line Black Pyramid. According to TMZ, Perna texted the r'n'b singer: "Loooove all the black pyramid pieces ... awesome collection!"
Clearly not thankful for the sentiment, the Loyal hitmaker allegedly replied: "I don't want you texting me compliments with no results." Brown then reportedly questioned why he was not booked in for cover shoots with the likes of Vogue and GQ, before telling Perna to "get in the game".
Perna, who works at the BWR PR firm, is said to have fired back: "Anna Wintour doesn't want to f**k with you. These editors don't want to f***k with you. The majority of my time is spent on damage control. I am constantly cleaning s**t up and having your back." Brown retorted: "NICOLE, you texting me as if I will give a f**k if u dont work for me or not... Do whatever makes u feel better. Me personally, I DONT GIVE A F**K!!!"
In reference to his former manager Mike G, who is allegedly suing Brown for assault in a separate case, the singer continued: "Mike, this b***h got all the balls in the world talking to me but can't talk to the editors or anyone for that matter when they release b******t in the press... Send this b***h her termination."
Perna, who was able to view Brown's messages to Mike G in the text message thread, then wrote: "Chris, respect. You're in my prayers x," to which Brown allegedly replied: "B***h u in my nightmares." The publicist is said to have sent her resignation letter shortly after.
Brown is also said to have a strained relationship with Mike G, who has reportedly filed a lawsuit against the singer accusing him of assault in May. The manager has accused Brown of hitting him repeatedly in the face and neck, with his injuries requiring medical treatment at a hospital.
Death Row Records co-founder Suge Knight is also suing Brown over a nightclub shooting in August 2014. According to reports, Knight says adequate security measures were not in place when Brown and singer Pia Mia hosted a party at Los Angeles' 1 OAK when Knight was wounded by gunshots. Adding to Brown's legal woes, the Grass Ain't Greener singer is also accused of threatening his former tour manager Nancy Ghosh while performing in Europe.
Lashing out to the various reports against him, Brown wrote in a lengthy Instagram rant: "ALL OF THESE PEOPLE WHO ARE CLAIMING TO BE MY "TEAM", are apart of MIKE Gs TEAM! they all were fired on different occasions. IMMATURE AAND UNPROFESSIONAL HOW THEY ARE CHOOSING TO HANDLE S**T. NO F****N NEED FOR ME TO HASH OUT ANY SPECIFIC DETAILS, just know people will run up a check and do no work, or even care...
"I NEVER NEEDED ANYONE FOR MY TALENT. PR??? PLEASE TELL ME FANS, DO YOU REALLY THINK THAT "CHRIS BROWN" HAS HAD A GOOD PUBLICIST?... PS. (SHOW THE CONVO THAT GOT HER FIRED, starting with her compliment, )MIKE G WAS ON GROUP TEXT. (PRETTY SURE IT WILL GET PETTIER) y'all have fun wit the b*****t."
Brown added: "ON MY DAUGHTER, it is. IF S**T WAS REAL, ALL THIS S**T WOULD HAVE CAME TO A HEAD THE DAY IT HAPPENED(EVEN THE SUGE SHIT), EXTORTION AND CALCULATED MOVES ARE EVIL AS F**K. IM DOING ME FOR ME AND MY KID!!!! YOU WONT MICHAEL JACKSON ME!!!!!"
In May 2015, Perna told IBTimes UK that BWR PR were no longer representing Brown. The company is yet to respond with comment on the latest reports.