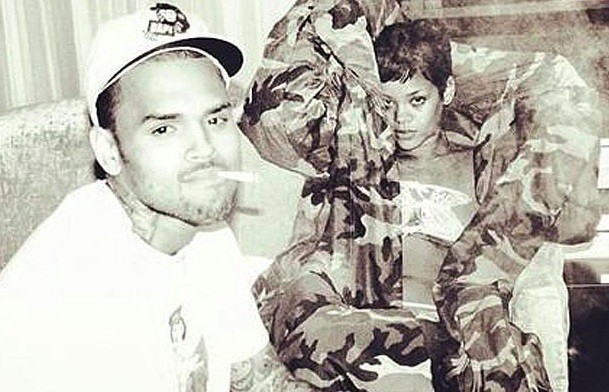 They famously told the world that their reunion was Nobody's Business but it looks like Chris Brown and Rihanna are making sure fans know just how close they are again.
Just days after RiRi posted a snap of her kissing her on-again off-again lover, Brown has shared equally an intimate image of the star in her underwear.
In the revealing black and white photo, the 24-year-old Diamonds star reclines on a sofa in white underwear. She is wrapped in what appears to be a padded camouflage coat.
Brown, 23, is shown next to her in a white T-shirt and baseball cap and smoking a suspicious looking cigarette. He captioned the image: "What would music today sound like if these kids didn't exist?"
Earlier this month and after months of speculation, Rihanna confirmed her reunion with the Don't Wake Me Up hitmaker by uploading a picture of the duo cuddling up together on her Twitter and Instagram pages.
Wearing a pair of skimpy white shorts and jumper, Rihanna wraps her legs around the heavily tattooed singer as they indulged in some PDA on a sofa.
She captioned the snap: "I dont wanna leave! Killed it tonight baby!"
The R'n'B singer has posted the image on his return to the Twittersphere following an online spat with comedian Jenny Johnson over his 2009 assault on Rihanna, which provoked him to quit the microblogging site.
Rihanna Stole My Daughter: Slut Pop and the XXX Factor [BLOG]