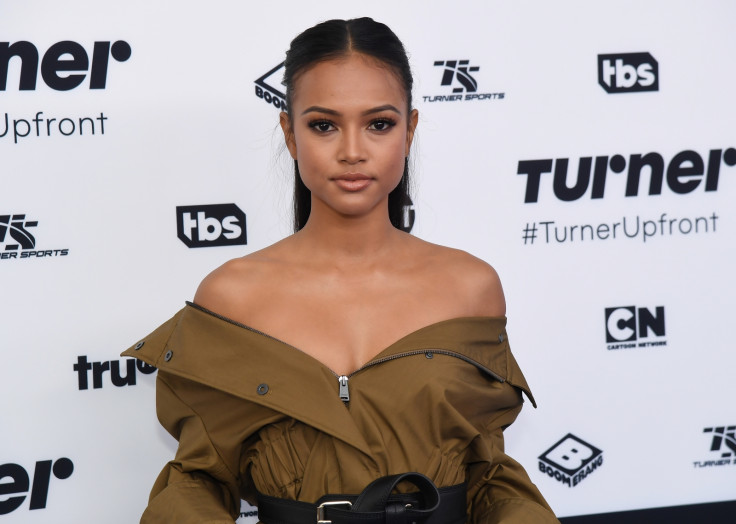 Fans think Chris Brown's ex-girlfriend Karrueche Tran is trying hard to get the attention of the singer, especially after he commented on Rihanna's sexy Crop Over look with googly eyes. The actress shared a sexy mirror selfie on Instagram and the picture has infuriated fans.
In the picture, the Claws actress is seen wearing a tiny silver and black thong bikini that barely covers her modesty. She teamed her sensuous look with giant ring-shaped earrings and black lipstick and pink slippers. While her picture was different from that of RiRi's controversial Crop Over outfit, fans of the singer appeared unimpressed with Tran and her image received a barrage of "copying Rihanna" comments.
"U ain't no Rihanna, ur a wannabee ain't getting no eye ball emoji" one user commented scathingly on the 29-year-old American actress' photo. Many thought that the actress was probably jealous of Brown's googly eye comment on Rihanna's sensuous picture and was trying to grab his attention.
"Attention seeker. I bet she waiting for breezy to comment," one fan wrote. "You tryna get my bro attention? C'mon you better than dat," added another. "Chris ain't bout to comment stop tryna get his attention you ain't Rihanna," a third one commented.
Last week, the Loyalty singer couldn't help but comment on Rihanna's outfit and Tran responded by saying she wouldn't blame him. "I would do the same thing if that was my ex. She looked f*****g good."" she told TMZ.
Karrueche was so impressed by the songstress' look that she wanted to get a curvy body like her. "I need to know what she's been doing. I need to get thick like that!"
The actress is currently basking in the success of her latest series Claws, which aired its finale on 13 August on TNT. In a surprise twist in the episode, her character Virginia gets pregnant. Speaking about her character's future in the show, Tran told Entertainment Weekly: "In the finale she is pregnant... Let me tell you. Claws is a crazy show. There are so many twists and turns. I'm just gonna leave it at that, but when it ends, Virginia is pregnant. You just gotta watch the next season. I'm biting my tongue right now. I'm holding back."