Rihanna is setting the internet on fire after sharing her smouldering hot image from the annual Barbados Crop Over festival that took place on 7 August. The singer looked gorgeous as she flaunted her perfectly sculpted figure in a barely-there outfit.
The singer made heads turn by wearing a skimpy bra decorated with shimmering crystals and a matching thong revealing her ample curves. She completed her sexy look with colourful leg jewellery, gigantic pink, green, and blue feather wings, turquoise wigs and a huge neck piece.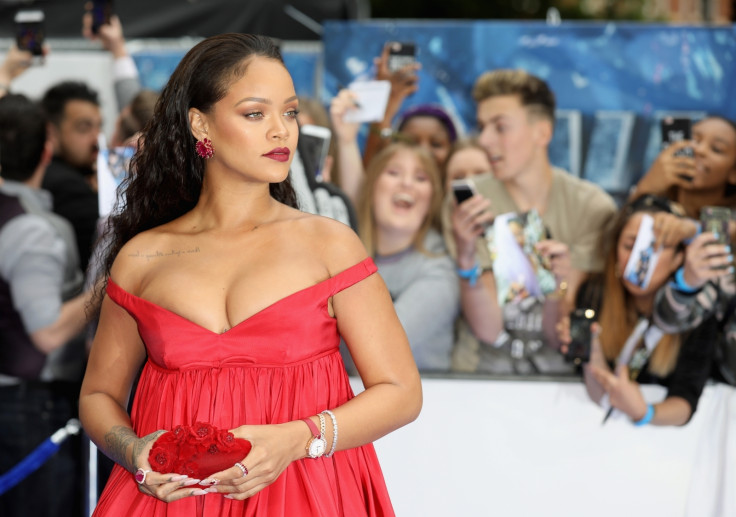 Fans started swooning over RiRi moments after she shared her racy picture on Instagram and crowned her as the Goddess of social media. The picture has since been liked by over two million times. Not only her 50 million followers, but it also appears, the Barbadian singer's hot look has made her former boyfriend Chris Brown drool over her.
The Loyalty singer couldn't help but posted a set of googly eyes emojis in the comments section of her photo. However, fans are not letting Brown steal the moment from the Bajan beauty and slammed him for still stalking her on social media. "Is how Chris here peeping Ri pics and aint ashamed to even post a comment if u stalking, stalk unknowingly," one of the 29-year-old singer's follower wrote.
"You fucking abuser. You don't deserve any woman in this planet," one fan scathingly replied to the 28-year-old singer's comments. "He was yelling her he would kill her when he abused her," added another.
Brown and the Diamond singer split eight years back after the former was accused of domestic violence against the Grammy Award winning singer. Some fans warned Brown to change his attitude as he has already received a restraining order after a plea by his ex, Karrueche Tran.
"He is a female abuser if he had really changed his attitude; He wouldn't get an order to stay away from his ex-girlfriend Karruche Tran," one fan wrote. "PLs keep your negative energy away from Rihanna @ChrisBrownOfficial," wrote another.