Chrissy Teigen and John Legend have welcomed a daughter. The Sports Illustrated model announced the news of the new arrival on Instagram on Sunday (17 April) morning. She revealed that the baby daughter, the couple's first child, was born on Thursday , as she shared the name of the new addition to the family.
Posting a photo of a monitor which revealed the baby weighed in at 6lbs 11oz, she wrote in the caption: "She's here! Luna Simone Stephens, we are so in love with you! And sleepy. Very sleepy," Chrissy wrote in the caption.
The clearly elated new father also tweeted: "Our new love is here! Luna Simone Stephens, born on Thursday, the 14th. We couldn't be happier!" Chrissy later thanked fans for their messages of congratulations writing: : "Thank you for all the well wishes!!! we are so happy and excited! I dunno what to tweet now. does my twitter change? this is so awkward."
"To everyone asking, John is healing perfectly," she joked.
The Lip Sync Battle host, who had earlier opened up about her struggle to conceive, faced criticism after it was revealed she hand-picked a female embryo to ensure she and John would have a daughter.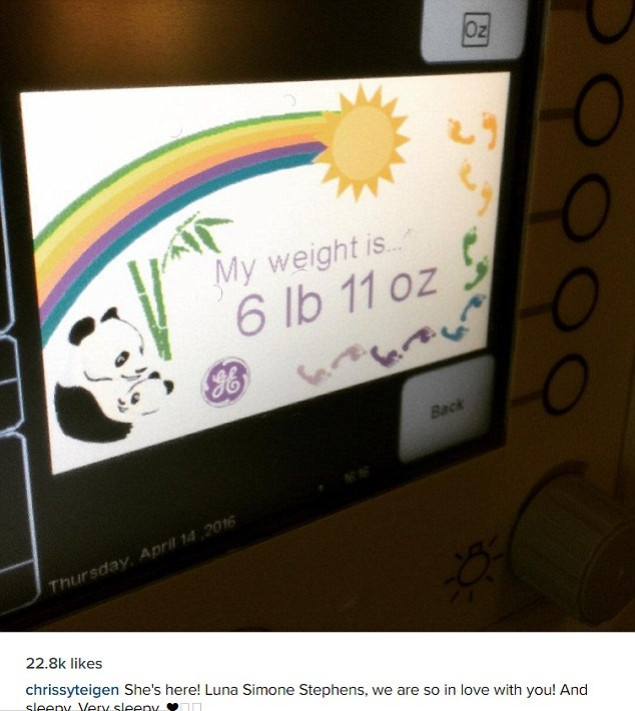 Speaking at the time she told People: "I've made this decision ... Not only am I having a girl, I picked the girl from her little embryo. I picked her and was like, 'Let's put in the girl.' It excited me to see ... just the thought of seeing him with a little girl. I think he deserves a little girl. I think he deserves that bond," adding that " a boy will come along."
The couple had reportedly been considering baby names for a while and although Legend was keen to avoid something too Hollywood, Chrissy revealed that she got the presidential seal of approval for the name Luna meaning 'moon' in Latin.
"I asked President Obama if he liked one of our name choices and he said he did," she said while appearing on The Late Show with Stephen Colbert. John isn't sold on the name, so I figured if [the president] liked it, then John would be sold on it. He says it's too 'Hollywood'."
Prior to the baby's arrival Chrissy was treated to two baby showers, one hosted by her friend Kim Kardashian. Kim's mother Kris Jenner was one of the first people to congratulate the couple on Instagram, sharing a picture of the new parents with the caption: "Congrats @chrissyteigen and @johnlegend!!!! Can't wait to meet baby Luna!"