Legendary auction house, Christie's has unveiled the latest awe-inspiring jewel set to go under the hammer after touring London, Hong Kong, Dubai and New York. The 163.41 carat, flawless D-colour emerald-cut diamond will be the largest to go on auction when it opens to bidding on 14 November in Geneva, Switzerland.
Discovered in Angola on 4 February 2016, the rough diamond was 404.20 carat, making it the 27th rough white diamond ever mined - and the largest ever from Angola, according to Christie's. It is expected to make tens of millions of dollars when it goes under the hammer.
For the diamond enthusiasts among us, it's a Type IIA - "a variety highly valued for its transparency and colour", Christie's website stated. After testing the diamond, researchers at the Gemological Institute of America wrote: "The extreme rarity of a diamond of this quality cannot be overstated."
After the gemological work, the rough diamond was sent off to New York's diamond district where a team of 10 specialists who had never worked with a diamond so large transformed it into the gem ready for auction.
At the end of June 2016, it was the turn of 80-year-old Ben Green, a diamond cutter since 1964, to split, angle and cut the jewel over six meticulous months - from there it was transferred to jewellery makers de GRISOGONO.
Founder Fawaz Gruosi described the difficulty of working out what to do with such an incredible stone: "I never thought I would work with a 163.41 carat diamond of this quality," Gruosi said, according to christies.com. "I have never had a problem finding creative ideas, but this time there was the immense pressure of "dressing" such an amazing diamond. I couldn't do something very simple or that has already been seen. I needed a design that is outside-the-box."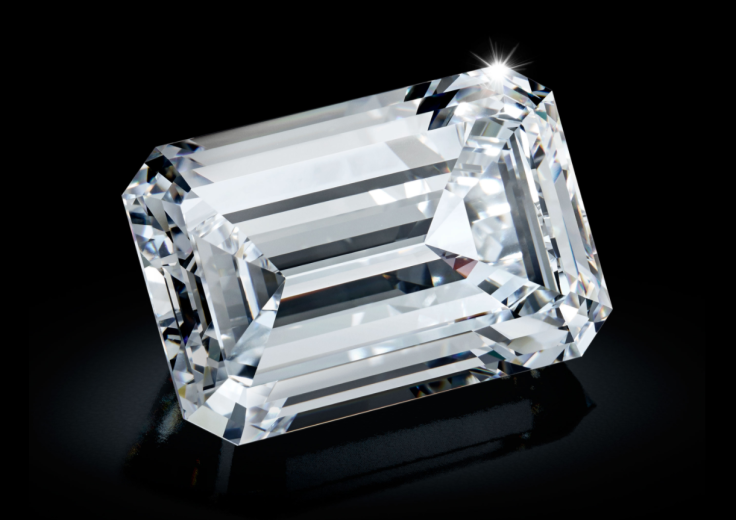 The resulting necklace is an asymmetric design featuring 18 other emerald cut diamonds on one side with the 163.41 carat diamond as a central masterpiece which can be detached and added to other pieces.
Christie's International Head of Jewellery Rahul Kadakia said: "Over our 251-year history, Christie's has had the privilege of handling the world's rarest and most historic diamonds. This sensational gem propels de GRISOGONO into a class of its own."
In May 2017, a pair of diamond earings, one blue and one pink, were sold at Sotheby's in Geneva for an eye-watering $57.4m (£44.40m).