The ability to personalise your gifts is an idea that was previously exclusive to a few stores. These days, the ability to inscribe the recipient's name upon their gift has become a fantastic way to make every item even more desirable and similarly less likely to be returned come Boxing Day.
The idea of personalisation is not only a wonderful way to ensure you have put some thought into a gift but it is also a great way to take a very popular brand or product and really make it your own. In 2001, Anya Hindmarch, launched her "Be a Bag" campaign that allowed customers to have their own photographs printed on to a tote bag.
She has since taken the idea of personalisation even further, first with the ability to emboss a customer's own handwriting on to a product and nowadays you can scribble on to everything from wallets to stickers, which are an amazingly affordable gift.
Relative newcomer to the game, By Laura allows you to create a totally bespoke candle for whoever you are buying for as well as a personalised label for under £20, so the entire product is created entirely for you.
For the more traditional customer, the likes of Aspinal of London and Smythson will always reign supreme with their understated stamping of initials upon their diaries and travel wallets alike. For 2015, the popularity of bolder leather hues has turned these once subtle items into real talking points.
Those of you who are looking for edible treats with your name on need look no further than Fortnum and Mason, Selfridges and John Lewis, who have all manor of products from champagne magnums to Nutella to keep any foodies happy this Christmas.
With so much on the market from chocolate to handbags, we have gathered the key pieces that you simply need to put a name on this Christmas.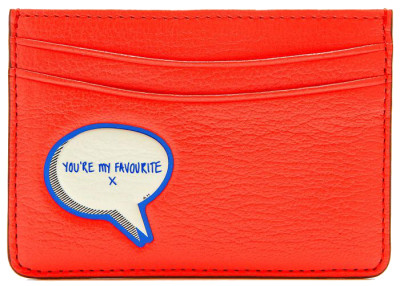 Speech bubble flat card case; £125, Anya Hindmarch
Mini Santa sack; £8, Fortnum and Mason
When I was a kid - handmade wooden alphabet train set; from £5, Not On The High Street
W1 desk diary in charcoal lambskin; £295, Smythson
Twenty Seven - Personalised glass bauble; £13.95, Selfridges
My 1st years - hooded baby robe; £25, Not On The High Street
Nike air force 1 low premium pendleton ID; £105
Fortnum's personalised Blanc di Blancs champagne magnum; £77.50, Fortnum and Mason
Johnstons lambswool scarf; £30, Selfridges (£5 a letter)
Personalised joy 4 cup teapot; from £61, Emma Bridgewater
Personalised Nutella jar; £4.99, Selfridges
Small cloud bag; £115, Cambridge Satchel Company
Personalised beer trio gift set; £15, John Lewis
Classic travel wallet in smooth amber; £125, Aspinal of London
Speech bubble sticker; £45, Anya Hindmarch
Ipad mini sleeve in midnight blue lizard; £75, Aspinal of London
Personalised signature candle; £17, by Laura
Our verdict
Speech bubble flat card case; £125, Anya Hindmarch
Anya Hindmarch has always dominated the personalisation market, after all she does have a fantastic in-house service in Pont Street that you can visit. The new addition to her Bespoke service in the form of the Speech Bubble range is fun, young and a perfect gift for a male or female who wants to stand out on a little. The flame red Capra leather is embossed so delicately and precisely that the speech bubble appears to floating above the card case.
The card case has a generous amount of space for doubling up on cards or using for notes also as well as the speech bubble being a great size to write a perfect Christmas message.