Google has lived up to its expectations by introducing the highly-anticipated screen casting/mirroring feature with Chromecast v1.7.4 APK release, which is reportedly tested on a number of Android devices running Android 4.4.1 KitKat or higher.
The screen casting feature was earlier showcased by Google at its annual I/O developer conference and the same is now available for use on the following Android devices: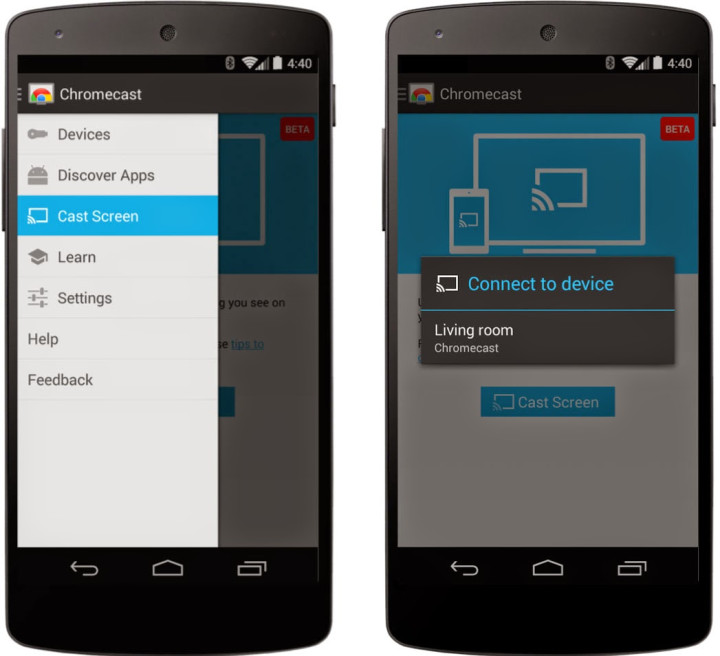 Nexus 4
Nexus 5
Nexus 7 (2013)
Nexus 10
Samsung Galaxy S4
Samsung Galaxy S5
Samsung Galaxy Note 3
Samsung Galaxy Note 10 (2014)
HTC One M7
LG G Pro2
LG G2
and LG G3
The screen casting or mirroring feature is accessible by choosing Cast Screen option via navigation sidebar in the Chromecast app.
As Android Official Blog reports, Cast Screen feature allows users to share favourite apps, photos, videos and everything else from their Android phone to the TV and enjoy all the action on the bigger screen.
Alternatively, Nexus devices support screen casting or screen mirroring feature via quick settings menu.
Sharing photos stored on your phone with a group of friends or selecting a particular scenery on the bigger TV screen via Google Earth for a family vacation are a couple of amazing feats among the numerous possibilities with screen casting.
The Cast Screen feature also reveals which Chromecast networks are available in your home along with the devices available for casting.
In related news, folks at Android Police have confirmed that screen mirroring of video content seems okay (depending on network) with some artifacting, while there seems to be no issue with audio content as it works fine with the screen turned off.
Download Chromecast v1.7.4 APK
Interested users may download the beta version of Chromecast v1.7.4 APK from Google Play Store, instead of waiting for Google to release its public or final release which is expected in the next few days.
Here are the direct download links for Chromecast v1.7.4 APK:
See Also: Enable Screen Casting on Rooted Android Devices via Custom Chromecast v1.7.4