Her effort singing the US national anthem was applauded but Ciara sparked outrage with her outfit choice. The Body Party singer sang The Star-Spangled Banner at the College Football Play-off Championship game between Alabama Crimson Tide and the Clemson Tigers on Monday 11 January, but social media was locked in a hot debate over her revealing sheer dress.
Ciara took to the University Of Phoenix Stadium's football pitch pre-game to sing the anthem wearing a champagne-coloured gown boasting a plunging neckline with a sheer panel, which exposed her cleavage. Former ESPN reporter Bonnie Bernstein commented: "Dear Ciara. You're stunning. But this is a National Championship Game. Kids are watching. Cover up."
Agreeing with her sentiment, Fox Sports 1 reporter Jason Whitlock added in a series of tweets: "The dress was inappropriate. Her voice was more than enough. Why distract w/nudity? I'm 100 percent serious. I'm not a prude. Love nudity. Not at national champ game. Inappropriate. No one offended. Thought it was a classless/clueless/thirsty look for her. Wanted her in best light. Not offended."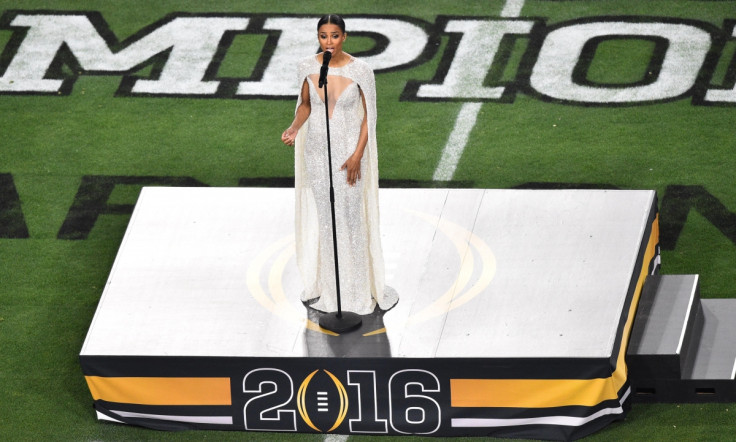 After Ciara's fans rushed to her defence, Bernstein later tweeted: "Truly am amazed at how people take a tweet (that includes a compliment!) & wanna make it about race. Seriously. Grow up. Watch the game." Ciara's boyfriend, Seattle Seahawks NFL player Russell Wilson, subtly defended the singer by tweeting his support, writing: "I see you baby!! Sounded amazing & looked flawless in every way!" Ciara, 30, refused to directly address the controversy and instead told her Twitter followers: "Truly Grateful For This Moment, and To Be A Part Of A Special Night."
Fans of the Jackie singer instead chose to praise her performance, with one commenting: "You sounded amazing and looked stunning, for the national anthem!!!" while another said: "Ciara did an amazing job, I didn't even know she could sing that good..and she looked amazing!" One other supporter stated: "That's by far the best ANYONE has looked singing the national anthem tho. Ciara ate that look.sounded good as well."
Watch Ciara sing the National Anthem from 10:00: