A raft of new rules concerning the sale of cigarettes and tobacco have come into force, banning the sale of 10-cigarette packs and stipulating that all tobacco must be sold in plain green packets.
A new EU directive came into force on Saturday (20 May) bringing in a swathe of anti-smoking regulations called the, Tobacco Products Directive (TPD2), aimed at preventing young people smoking.
Public health groups have welcomed the measure while the tobacco companies have warned that by banning the smaller 10-cigarette packs this will only encourage people to smoke more and force smokers to buy tobacco on the black market.
Also included in the new measures was a stipulation that packs will now carry graphic health warnings taking up to 65% of the front and back of the packs.
The smoking laws will mean the cheapest pack of cigarettes will set a smoker back £8.82 ($10.94).
Many Britons have turned to vaping in recent years with half of the 2.3 million current users of e-cigarettes saying they are doing it to quit smoking.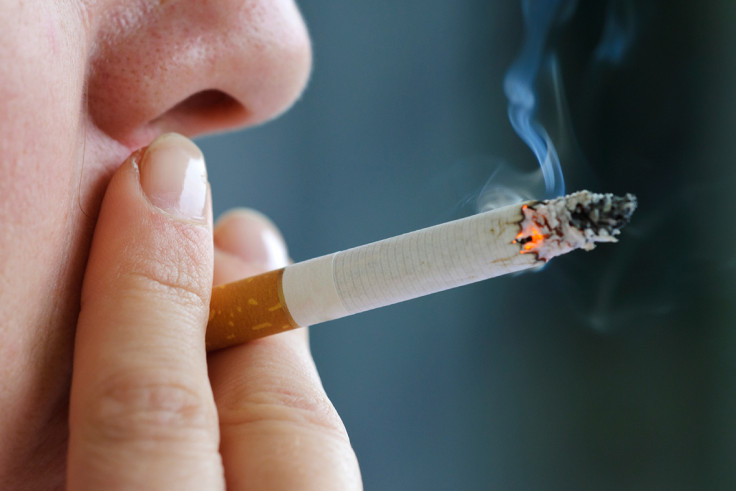 Around 17% of the UK adult population still smoke with the average cigarette consumption among smokers reduced to 11.3 cigarettes each day – the lowest level since 1974
The numbers of smokers has consistently dipped and has come down from 20.1% in 2010.
The EU Commission hopes that the new measures will create a 2% drop in cigarette consumption up until 2022 as part of efforts to "deglamourise" the image of smoking to impressionable youngsters.
The Cochrane Review published last month estimated that the number of people who smoked in the UK could go down by 0.5% in just one year until May 2018 after analysing data from Australia - the first country to implement standardised tobacco packaging.
The measures were brought in last year but retailers were given time to get rid of old stock before the green packaged cigarettes came into force.
Hazel Cheeseman, from Action on Smoking and Health, welcomed the measures saying to the BBC: "Branding and advertising is one of the things that helps to recruit young people into smoking.
"So removing the branding features, making the health warnings bigger and more prominent, is intended to protect young people from taking up smoking in the future."
The new measures include:
Brownish-green packaging
Larger health warnings on packets taking up 65% of the front and back
A graphic picture at the top of the packet
Minimum 20 pack size
Flavoured cigarettes and tobacco will be banned
Menthol cigarettes to be completely banned by 2020
And no more so-called "misleading" information, like "low tar" or "organic"