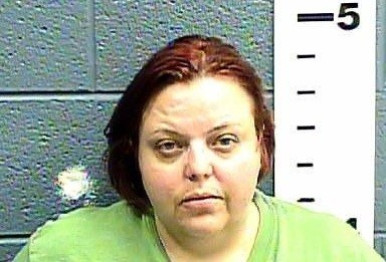 An eight-year-old disabled girl has been found locked inside a wooden cage the size of a cot by police in New Mexico.
The girl had been locked inside the cage while the rest of her family went to see a film.
Cindy Patriarchias, 33, who is not the girl's biological mother, and her partner Edmond Gonzales, 37, were charged by police.
Patriarchias was charged with child abuse and Gonzales with negligently permitting child abuse.
Las Cruces Police said Patriarchias was trying to adopt the girl with her estranged husband and had remained in her custody after their split.
Patriarchias had taken her three other children to see a film at Columbia Elementary School and had insisted on leaving the girl at home.
The estranged husband contacted police after discovering Patriarchias had left the girl alone. When they visited the property, they found the developmentally disabled child inside the cage.
Son offered to stay home
Police spokesman Dan Trujillo said: "The arriving officer who peeked in there thought he would see a pet, a dog possibly but as it turned out to be this young eight-year-old."
He said the officer removed the girl from the cage, which measured 2.5ft wide and 4ft tall, and took her for a medical check.
Trujillo said: "It did have vents. It was made out of wood. It was obviously homemade. It had vents along the top. She had already outgrown this, if you will. She was already too tall for it."
The girl had not suffered from physical injuries but police later learned she has the neurological disorder microcephaly, and has the mental capacity of a two-year-old.
According to the Las Cruces Sun News, one of Patriarchias' sons told police he had offered to stay at home with the girl because she was asleep and did not want her to be left alone.
However, his mother told him the girl would be fine because they were not going out for long.
A police statement said: "Detectives learned that Patriarchias insisted on leaving her daughter home alone, confined in the wooden cage."
Patriarchias and Gonzales remain in police custody. Their bail was set at $25,000 (£15,800) each.