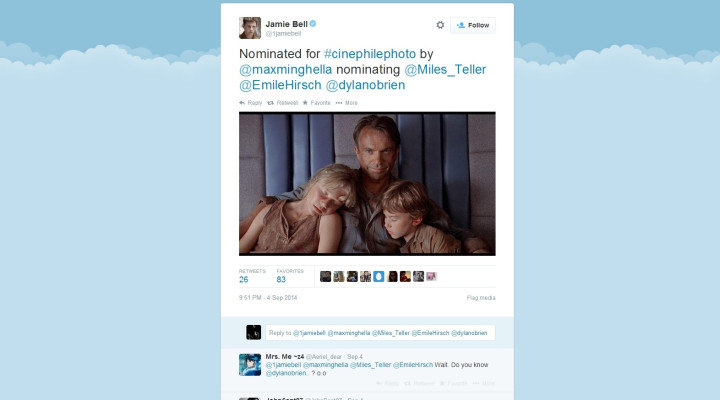 While the ALS Ice Bucket Challenge craze continues to spread, a new, more simple and convenient, challenge has gone viral grabbing the attention of Twitter users worldwide.
It's called the #Cinephilephoto Challenge!
Cinephilephoto Challenge is all about sharing your love for films – that's it. No political agenda, no charities to argue about, no social issues - just plain fun and reminding each other what the magic of cinema means.
It's a chain-letter style challenge, it's super-easy and here's how it works (via Moviepilot):
The challenge seems to be a big hit on social media with several celebrities also joining the bandwagon. Here are some Cinephilephoto Challenge posts on Twitter:
Okay then, @edgarwright and @MysteryCr8tve nom'd me for #cinephilephoto. I nom @ReeceShearsmith and @chrismcquarrie pic.twitter.com/UZSmUXz4O2

— Simon Pegg (@simonpegg) September 4, 2014
#cinephilephoto tagged by @clauita89; tagging @FearofLung, @GraveGraffiti, and @ChasingBristol. pic.twitter.com/s45GYCPjv5 — Deena Edwards (@deenawinchester) September 6, 2014
Nominated by @ChrisrrDavis for #cinephilephoto. I'll nominate @JROBproductions @ryanbooth & @Josh_connolly. pic.twitter.com/6HE4XfCWKY

— Ryan Connolly (@ryan_connolly) September 3, 2014
Nomd by @Rob__McCallum for #cinephilephoto (fav movie still) I nominate @somebadideas @rodeneronquillo @unklerupert pic.twitter.com/Ivv18rkpyL — Duncan Jones (@ManMadeMoon) September 3, 2014
"Keep your sunny side up!" #CinephilePhoto nominated by @firstshowing. I nominate @aliercivan @cambeltwt @dokunanadam pic.twitter.com/2ioEDeudk9

— Tomris Laffly (@TomiLaffly) September 3, 2014
Shot from Tarkovsky's Stalker. nom'd by @somebadideas. I nominate @Lilyinapad @lylevincent @Femme_Mal #cinephilephoto pic.twitter.com/YJqN5WUiS2 — Peter Webber (@PeterWebber) September 3, 2014