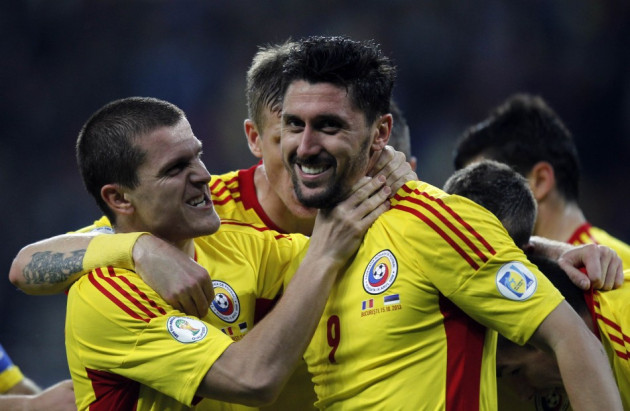 Arsenal will take the cut-price option in order to beef up their attack after abandoning moves for Aston Villa striker Christian Benteke and Real Madrid's Karim Benzema in favour of pursuing Romanian international Ciprian Marica, according to Metro.
The Gunners perceive both Benteke and Benzema to be beyond their price-range and will instead step-up their interest in Marica, who will be available for a nominal fee in the January transfer window with his contract with current club Getafe expiring next summer.
Marica joined Gefate on a one-year deal after becoming a free agent having left Schalke, despite being linked with moves to both Arsenal and West Ham United in the summer transfer window.
The 27 year old has scored one goal in seven appearances in La Liga this season and would represent a low-risk option for Arsenal to support Olivier Giroud.
Deals for both Benteke and Benzema would expect to involve substantial fees while both players would likely demand hefty first-team appearances, rather than play second fiddle to Giroud.
Giroud has started every game for Arsenal in the Premier League and his two-goal contribution against Southampton helped keep his side top after 12 games.
But the Frenchman's workload has been heavily scrutinised and with inadequate support in the form of Nicklas Bendtner, who is expected to finally leave Arsenal in the New Year, the club have been advised in many quarters to add depth to their current resources.
Theo Walcott made a 20-minute cameo in the win over Saints after several months out following abdominal surgery but the club continue to be urged to add a striker to their depleted artillery.
But manager Arsene Wenger said prior to the win over Southampton: "Theo gives us qualities that other players haven't got. It's a different option. Theo also gives us an opportunity to be a mobile striker. If we lose Giroud today we have nobody with body weight up front.
"I think we can win the title without signing a striker. [Lukas] Podolski is not back but he shouldn't be too far now. They make it less critical to sign a striker.
"Look, I am not against it [signing a player in January]. I don't say I never make a mistake - I certainly made some. Sometimes it is because we didn't sign the right player.
"It is always difficult in the middle of the season. If somebody is doing well somewhere the clubs do not necessarily want to sell him. They can wait until the end of the season. Most of the time it is because we didn't find [the right available player]."
Benteke has scored 20 goals in the Premier League in 2013, including two against Arsenal on the opening day of the season, which has helped the Belgian enjoy a decent year while Benzema continues to be marginalised at Real.
Despite only having Jese Rodriguez is reserve, Benzema is far from first choice under Carlo Ancelotti, and was omitted from the start in the El Classico defeat to Barcelona last month.